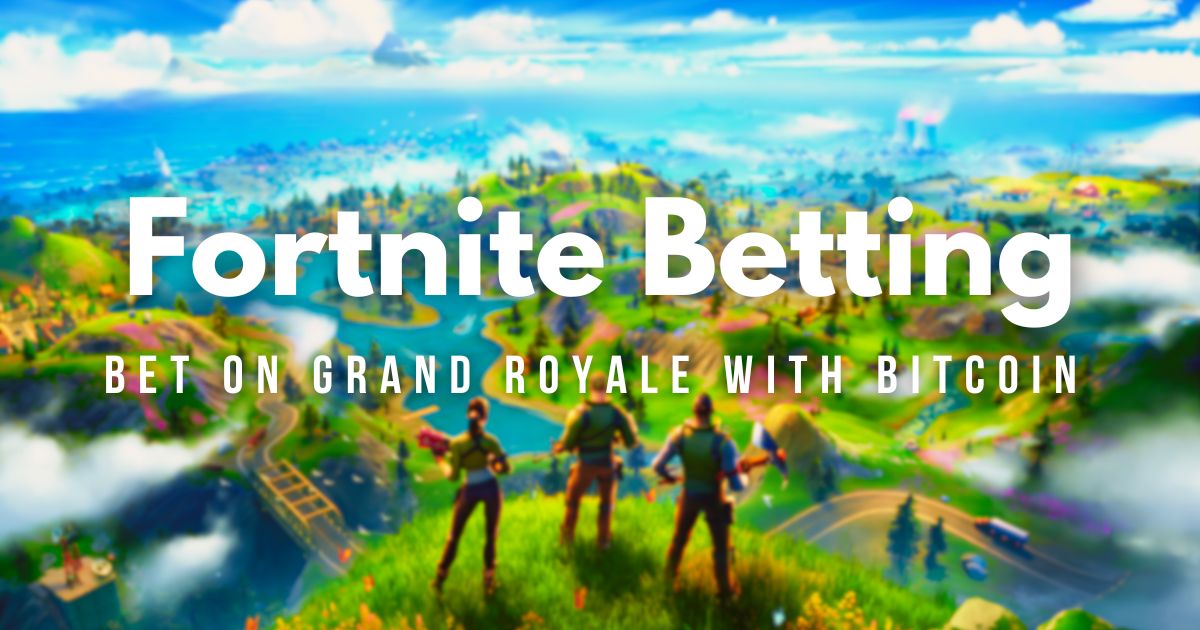 Fortnite Betting: Bet on Grand Royale With Bitcoin
Ever wondered how to combine your love for Fortnite with your passion for Bitcoin? Well, look no further!
In this exciting guide, we're diving into the world of Fortnite betting with Bitcoin. We'll introduce you to the best crypto sportsbooks, show you how to get started, and even spill the beans on some tips to supercharge your winnings.
So, grab your Battle Pass, and let's level up your Fortnite betting game!
Best Fortnite Betting Sites
Currently, we only have one provider who offers Fortnite betting with Bitcoin:
Let's have a more close look at this bookie:
Thunderpick
Thunderpick is an absolute gem among crypto sportsbooks, and it's no surprise that it's a hot favorite among eSports enthusiasts. They've been in the game since 2017 and hold a legit gambling license from Curacao, so you know you're in good hands.
You can bet on several eSports, such as Rocket League, StarCraft2, and, of course, Fortnite. Plus, if you want an extra kick of adrenaline, you can try out live betting. Just a word of advice, though: eSports odds can soar high in live betting, which means your potential profits can skyrocket, too.
But here's the real kicker – their bonuses are where the action's at.
Thunderpick rolls out the red carpet for you with a buffet of promotions, including a juicy 100% first deposit bonus that practically doubles your initial deposit, capping at a generous 600 EUR (until November's Thunderpick World Championship).
To unlock this bonus, you'll need to meet a reasonable x10 rollover for betting (that's your deposit amount + bonus).
Plus, they're all about giving back, offering opportunities for free bets and gift cards.
Another thing worth mentioning is that as a part of their recent team-up with Evil Geniuses, Thunderpick will drop weekly giveaways, like chances to win merch, meet and greets, tournament tickets, and more.
Like what you see? Try them out here:
P.S. You can also keep an eye on the following alternative bookies. All three of them update their eSports selection from time to time, and you might find Fortnite on their list in no time.
How to Get Started With Fortnite Betting?
Getting started with Fortnite betting is a breeze, and here's your step-by-step guide to dive into the action:
First things first, you'll want to create a crypto wallet. This digital wallet is where you'll store your cryptocurrencies, such as Bitcoin or Ethereum, which you'll use for betting.
Once your wallet's set up, it's time to buy some crypto. You can do this on various cryptocurrency exchanges. Or even better, some of our bookies offer on-site crypto exchange, so you can buy crypto directly from there.
Next, you'll need to sign up with a reputable sportsbook that offers Fortnite betting options. Make sure the bookie accepts cryptocurrencies for deposits and withdrawals.
Finally, browse through the available Fortnite betting markets and place your bet. You can choose from various markets, like match winners, first blood, most kills, and tournament outcomes.
With these steps, you'll be well on your way to enjoying the thrill of Fortnite. Good luck, and game on!
Fortnite In a Nutshell
Fortnite, in case you've been living under a digital rock, is an epic online video game that has rocked the gaming world since its inception in 2017. Developed by Epic Games, it's not just a game; it's a cultural phenomenon.
The game's roots trace back to the Save the World mode, where players teamed up to fend off hordes of zombies.
However, it was the introduction of the Battle Royale mode that sent Fortnite into the stratosphere. In this mode, you, along with 99 other players, are dropped onto an island with nothing but your wits and a pickaxe. Your mission? To be the last one standing.
But Fortnite is not just about eliminating opponents; it's about building structures, dancing your heart out, and pulling off jaw-dropping stunts. Think of it as the Hunger Games meets Minecraft, but with more vibrant colors.
How Does Fortnite Fit Into eSports?
Now, when it comes to competitive eSports, Fortnite has carved out a substantial space for itself. Professional players and teams from all over the world compete in high-stakes tournaments for massive cash prizes. These competitions showcase the game's unique blend of gunplay and building mechanics.
So, whether you're dropping into the island for fun or tuning in to the eSports scene, Fortnite has something for everyone in this digital battleground!
Tournaments: FNC Global Championship
The Fortnite competitive scene has continued to flourish, and 2023 promises to be a monumental year for the game's eSports domain. While the FNCS tournaments showcase top-tier competition within each season, the pinnacle of competitive Fortnite gaming is set to unfold at the eagerly anticipated FNCS Global Championship, known as the Grand Royale, slated in October.
Good to Know
The American/Canadian duo of Cooper and Mero won the FNCS Global Championship in 2023.
This prestigious event will gather the crème de la crème of Duos teams, providing an exciting platform to witness the prowess of these players in an arena that transcends the regular FNCS seasons.
Which Players Should I Keep an Eye On?
As we gear up for the FNC Global Championship in 2023, three players have captured the attention of the Fortnite community and are poised to make a significant impact on the competitive landscape:
Bugha: Widely regarded as one of the game's all-time greats, Bugha's incredible mechanical skill and strategic prowess have earned him a spot among the elite. His performance in the upcoming Grand Royale will undoubtedly be a major focal point.
Queasy: Quesy has consistently showcased exceptional talent in the competitive Fortnite scene. His ability to adapt to changing game dynamics and make clutch plays has cemented his status as a top-tier player to watch.
Veno: Veno's remarkable gameplay and strategic insights have set him apart as a formidable force in Fortnite eSports.
Stay tuned for an epic showdown as these players and many others fight for the main prize:
Fortnite Betting Markets
Fortnite betting markets offer a diverse range of options for those looking to add some excitement to their gaming experience. Here's a breakdown of four popular Fortnite betting markets:
First Blood: here, you're essentially wagering on which player or team will secure the first elimination (kill) in a specific Fortnite match or tournament. It's a thrilling market that adds an extra layer of intensity to the early moments of a game. Betting on "First Blood" can be a fast-paced and dynamic choice, as it hinges on the quick decision-making and sharp shooting skills of the participants.
Match Winner: is one of the most straightforward Fortnite betting markets. Here, you're simply predicting which player or team will emerge victorious in a particular match or game. Whether it's a one-on-one duel or a team-based competition, betting on the match winner provides a clear-cut way to root for your favorites and potentially earn a payout if they succeed.
Most Kills: is all about forecasting which player will rack up the highest number of eliminations during a specific Fortnite match or tournament. This market adds an exciting dimension to the game, as it emphasizes not only survival but also aggressive playstyles and the pursuit of eliminations.
Tournament Winner: this market is a long-term bet that focuses on predicting the overall champion of a specific Fortnite tournament or event. This market typically spans multiple matches or rounds, making it a more strategic and rewarding option for those who follow the entire tournament. Betting on the tournament winner requires a good understanding of the competitive scene and the ability to assess player or team performance over an extended period.
Whether you're a passionate Fortnite fan or a seasoned bettor, these markets provide an exciting way to engage with the competitive gaming world and potentially win some rewards along the way.
Why Bet With Crypto on Fortnite?
Betting with cryptocurrency on Fortnite offers several advantages and appeals to both gaming enthusiasts and cryptocurrency aficionados. Here are some compelling reasons why betting with crypto on Fortnite can be an attractive option:
Speed and Efficiency
Cryptocurrency transactions are known for their speed and efficiency. When you use traditional payment methods for betting, such as credit cards or bank transfers, you may encounter delays due to processing times.
Good to Know:
Solana and Ripple have near-instant transaction time.
Cryptocurrency transactions, on the other hand, are typically processed quickly, allowing you to place bets and receive winnings without unnecessary delays.
Anonymity
Many cryptocurrencies provide a degree of anonymity, which can be appealing if you value privacy. When you bet with crypto, you can enjoy a level of discretion that may not be available with traditional payment methods, as you don't need to share personal financial information.
Accessibility
This global accessibility is especially beneficial if you're located in regions with limited access to traditional betting platforms or face restrictions on payment methods.
Psst! We also have a guide on the safest VPN options for gambling and betting.
Security
Blockchain technology is renowned for its security features. The transactions are cryptographically secure and resistant to fraud or unauthorized access. This added layer of security can give you peace of mind when engaging in Fortnite betting activities.
Lower Transaction Costs
Traditional payment methods may involve fees associated with currency conversion, international transfers, or intermediary banks.

Cryptocurrency transactions can significantly reduce these costs, making betting with crypto a cost-effective choice. You pretty much just have to pay the blockchain network fee.
Innovative Betting Platforms
With the rise of cryptocurrency, specialized crypto sportsbooks have emerged:
These platforms offer unique features and bonuses tailored to you, enhancing the overall betting experience.
Potential for Investments
Some bettors see cryptocurrency as an investment opportunity in addition to a wagering medium. If the value of the cryptocurrency used for betting appreciates over time, it can result in additional profits beyond your betting winnings.
Global Events and Tournaments
Betting with cryptocurrency extends beyond Fortnite; it applies to various eSports events and tournaments. This flexibility allows you to engage in a wide range of eSports betting opportunities using your preferred crypto assets.
For example, there are tons of events going on all year round for the following eSports:
It's important to note that while betting with cryptocurrency offers numerous advantages, it also comes with some risks, including price volatility and regulatory considerations. You should exercise caution, research, and use reputable BTC bookies to ensure a safe and enjoyable betting experience.
Fortnite Betting Tips & Strategies
While many Fortnite betting sites are all about throwing odds at you, we're here to explain that it's not all about the latter. There are quite a few nuances you should keep in mind when betting on Fortnite.
Think of it as our cheat code for predicting Fortnite eSports matches:
Get the Hang of Fortnite Battle Royale. If you wanna ace those Fortnite bets, you've got to know the game inside out. Watch live tournaments or catch up on the ones that have already happened. Oh, and don't forget to binge-watch streams from the Fortnite pros. Soon, you'll read the game like a pro, which is super handy for live betting.
Stats and Performance Matter: Time to geek out on numbers! Keep tabs on how the top Fortnite players are doing. Check out the solo stars and the duo dynamos. This stat-crunching will help you make smarter bets, especially when you're backing the players you've been stalking.
Tournament Time: Big Fortnite events are making a comeback, especially in 2023 and 2024. Summer is the season for regional Fortnite showdowns, and classics like the Fortnite World Cup are back on the menu in the autumn. Plus, dig into past tournaments to learn about the players and the tournament setups.
Select a reputable sportsbook. Check for available betting markets, compare odds, and don't forget to take advantage of welcome bonuses and promotions. All of these can boost your bankroll for a smoother betting experience.
The more you know, the better you'll be at Fortnite betting. And you'll soon see that wagering on Fortnite isn't as tricky as it seems.
So, gear up, and let's conquer those bets together!
Wrap Up

In summary, Fortnite betting adds a new layer of excitement to the gaming world, blending eSports enthusiasm with cryptocurrency. As eSports tournaments evolve, Fortnite betting remains an engaging option for both gamers, bettors, and spectators.
Frequently Asked Questions
Can you bet on Fortnite FNCS?
Yes, you can bet on Fortnite eSports using Bitcoin and various other coins. Our top pick for Fortnite betting is
Thunderpick
Is there a Fortnite tournament in 2023?
Yes. The FNCS 2023 Global Championship is held from 13 October until 15th of October.
Is Fortnite betting legal?
Fortnite betting is legal. However, it important to choose a reputable sportsbook and check your local gambling regulations before placing any bets.