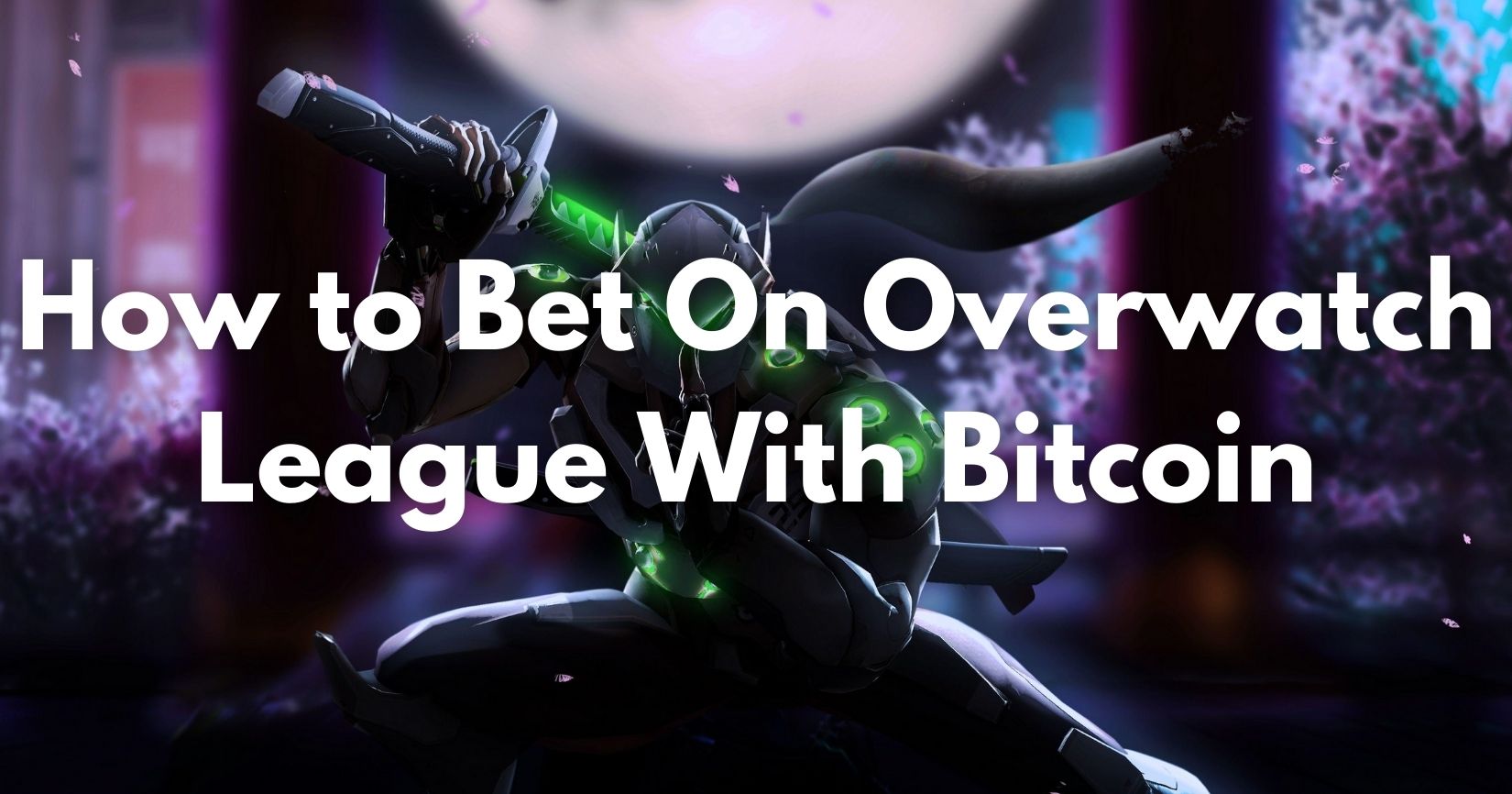 How to Bet On Overwatch League With Bitcoin: All You Need to Know (2023 Guide)
If you've ever wanted to combine your passion for the Overwatch League with a bit of crypto excitement, you're in for a treat. In this 2023 guide, we're diving headfirst into the world of betting on Overwatch using Bitcoin.
Whether you are an experienced bettor searching for the most reputable Overwatch betting platforms or a newcomer seeking guidance on initiation, this article will serve as your compass.
You'll learn:
Where and how to bet on Overwatch
Best Overwatch League events
Top teams to bet on
Tips and strategies
So, grab your favorite gaming chair, and let's explore the thrilling world of Overwatch betting with a crypto twist!
Best Overwatch Betting Sites: Quick Picks
Here are our top five picks for Overwatch betting with crypto:
P.S. If you're interested in knowing how we evaluate our sportsbooks, take a look at our review process.
Why did we choose these bookies? Read on to find out:
Cloudbet – #1 Overwatch Betting Site
Cloudbet has secured its position as our top pick for Overwatch betting, and here's why.
With a history of being one of the longest-running crypto sportsbook and casino platforms, Cloudbet brings a high level of trustworthiness and reliability to the table. What sets them apart is their genuine commitment to eSports, notably their impressive selection of virtual sports games.
The user-friendly interface at Cloudbet makes navigating the world of eSports betting a seamless experience, catering to both beginners and seasoned bettors.
Deposits and withdrawals have been smooth in our experience, and the wide range of cryptocurrencies available should satisfy even the most discerning crypto users.
Cloudbet doesn't stop at Overwatch; they also offer a diverse range of other eSports markets, including CSGO, Dota 2, and LoL.
However, there's one minor drawback: Cloudbet lacks a welcome bonus specifically tailored to sports bettors. The attractive 5 BTC bonus is exclusively available for casino games. While Cloudbet remains a solid pick for eSports enthusiasts, we hope to see more sports-related bonuses in the future.
Pros:
Trustworthiness
eSports Emphasis
User-Friendly Interface
Cons:
Lack of Sports Betting Bonuses
Stake – Best Bookie for Sponsorships
While Stake has long been a favorite for sports betting, they've recently made significant strides in the world of eSports, earning them the spot as our second-best bookie for Overwatch betting.
They offer a wide range of betting options, extending beyond Overwatch to include Valorant and various other games, ensuring that there's always something exciting to wager on.
Although Stake primarily focuses on daily sports promotions, it's worth noting that they've ventured into eSports promotions in the past. Just a few months ago, they ran ongoing eSports promotions for popular titles like LoL, Valorant, and Dota, offering added value for eSports enthusiasts.
However, what truly sets Stake apart is their impressive list of sponsorships with prominent names such as Drake, Alfa Romeo, and UFC.
While they haven't ventured into eSports-related sponsorships as of now, given Stake's agility and rapid progress, it wouldn't be surprising to see them explore eSports partnerships in the near future.
Pros:
Diverse Betting Options
Impressive Sponsorships
Cons:
Limited eSports Promotions
BC.Game – Best Selection of Cryptocurrencies
BC.Game has secured its spot as our third choice for Overwatch betting, and there are several reasons that make this a compelling choice.
First and foremost, BC.Game offers one of the most engaging and user-friendly interfaces in the industry. It's not just fun and visually appealing but also designed for easy navigation, making Overwatch betting an even more enjoyable and accessible experience.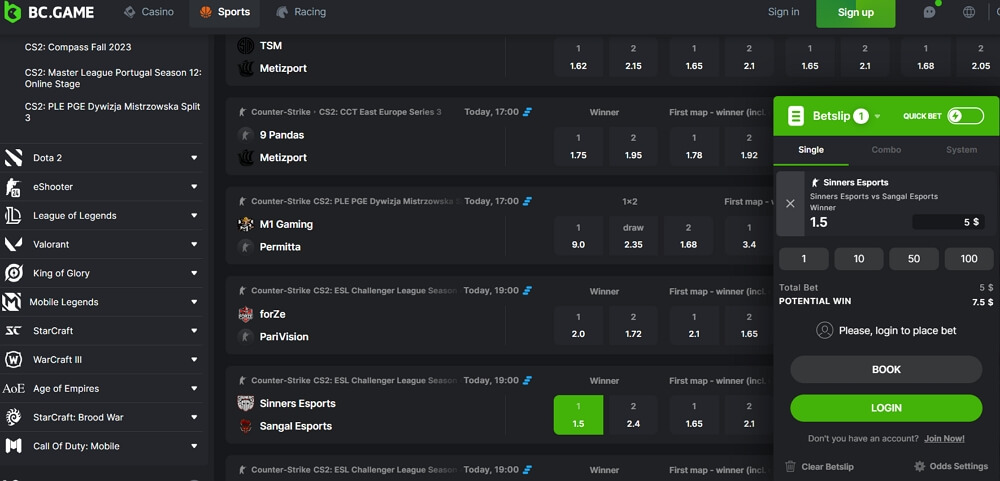 What truly sets BC.Game apart is its emphasis on community interaction. The platform allows you to share your betting experiences within their community chat, providing an opportunity to connect with fellow bettors, exchange tips, and strategies.
Also, BC.Game is a definite winner when it comes to cryptocurrencies. If an average amount of coins is 20+, then BC.Game offers a whopping 80+ cryptos, including meme coins such as PEPE.
Plus, they don't skimp on betting options, offering an extensive selection of Overwatch betting markets. Their competitive odds make the betting experience all the more attractive.
For newcomers, BC.Game extends a warm welcome with a generous match deposit bonus of up to 360%, providing an excellent starting point for your Overwatch betting journey.
However, there's room for improvement. BC.Game's range of ongoing promotions is relatively limited compared to other providers on this list. Additionally, while the playful and whimsical interface is enjoyable for many, it might be distracting for those who prefer a cleaner and more minimalistic design.
Pros:
Playful and User-Friendly Interface
Abundance of Betting Markets
Countless Amounts of Cryptos
Cons:
Limited Ongoing Promotions
Playful Interface May Distract
Now, besides these top three sportsbooks, two more deserve a detailed look:
Thunderpick – Best Selection of eSports
Thunderpick takes pride in positioning itself as a dedicated eSports bookie created by fans for fans. This fan-centric approach underscores their commitment to delivering a premium eSports betting experience tailored to the needs and preferences of eSports enthusiasts.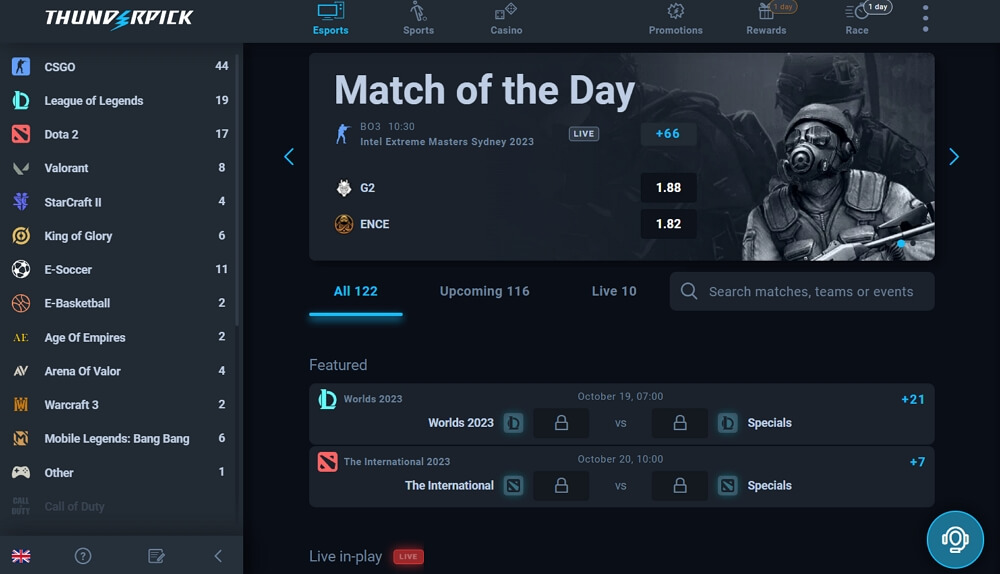 One standout feature of Thunderpick is its strong emphasis on eSports tournaments. They prioritize keeping bettors engaged and excited, going the extra mile to create a dynamic betting environment.
As an example, Thunderpick is currently hosting the Thunderpick World Championship tournament, featuring some of the leading CS:GO esports teams competing for a remarkable $600,000 prize pool. Notably, this marks the largest sum ever offered by a sportsbook for an eSports competition.
While this particular example is about CS:GO and not Overwatch, it still shows Thunderpick's dedication to eSports and their ability to keep the eSports community enthralled.
In essence, Thunderpick's fan-oriented approach and unwavering commitment to eSports tournaments make it an appealing choice for Overwatch betting.
Bitsler – Best for eSports Promos
If you're an enthusiast for eSports promotions, Bitsler is the platform that aligns with your interests. Currently, they're rolling out a range of promotions tied to ongoing tournaments, including prestigious events like Dota 2's The International and the League of Legends Championship.
Bitsler's dedication to eSports promotions extends to Overwatch as well, meaning you're likely to find exciting offers whenever major Overwatch tournaments are on the horizon.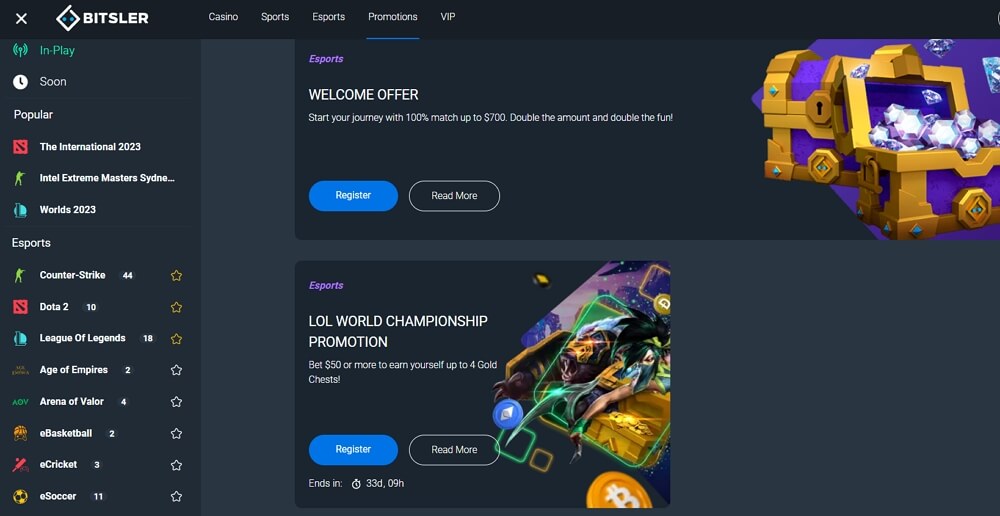 Moreover, Bitsler offers a treasure trove of betting markets. With hundreds of options at your disposal, you have ample opportunities to diversify your betting habits and explore various aspects of Overwatch and other eSports.
Are There Any Other Bookies That Offer Overwatch Betting?
Absolutely!
There are plenty of other reputable crypto sportsbooks and casinos where you can try out Overwatch but also other eSports games:
Overwatch Explained
Overwatch, the brainchild of Blizzard Entertainment, is a captivating fusion of gaming styles. It's a series of multiplayer first-person shooter (FPS) games that started with the original Overwatch in 2016 and got a sequel, Overwatch 2, in 2022.
What makes Overwatch stand out is how it seamlessly blends elements from both FPS and MOBA genres. Essentially, Overwatch 2 is a first-person battle arena that shines a spotlight on its "hero characters" – these are the playable models, each with distinct attributes and abilities that can turn the tide of battle.
Two teams of players engage in hero-based combat, striving to conquer various objectives and traditional game modes.
This game has also carved out a niche in the eSports world, with a lively and diverse community, offering year-round competitive seasons perfect for eSports betting enthusiasts.
Originally, Overwatch had a six-vs-six format, but Overwatch 2 switched it up to a five-vs-five setup, which applies to both casual and competitive gameplay.
What Are the Overwatch Game Modes?
For all you competitive Overwatch enthusiasts out there, mastering the game modes is essential, especially if you're considering placing bets on Overwatch matches.
Let's break down the four key game modes you'll encounter in Overwatch:
Game Mode
Description
Maps

Game Mode

Control

Description

In Control, two teams duke it out over a capture point in a best-of-three showdown. Each round happens on the same map but in different areas, featuring a fresh capture point.

Maps

Ilios, Lijiang Tower, Nepal, Oasis, Busan, and more.

Game Mode

Escort

Description

Escort mode is all about one team guiding a payload to a delivery point while the other defends to stop them. Maps in this mode have three checkpoints along the way to extend the timer and change spawn locations.

Maps

Dorado, Route 66, Watchpoint: Gibraltar, Junkertown, etc.

Game Mode

Hybrid

Description

Hybrid combines Assault and Escort objectives. Initially, there's a capture point to secure. Once it's claimed, spawn locations for both teams shift, and you transition into the Escort phase.

Maps

King's Row, Numbani, Hollywood, Eichenwalde, and more.

Game Mode

Push

Description

Push is a new mode introduced with Overwatch 2. Here, two teams battle to escort a robot pushing an objective across the map. The robot passes through two checkpoints along its path.

Maps

Toronto, Rome, New York City, and other new Overwatch 2 maps.
Each of these modes adds its unique flavor to Overwatch's dynamic gameplay, and understanding their intricacies is crucial for making informed bets.
Who Are Overwatch Heroes, and What Are Their Roles?
Overwatch 2 brings a diverse cast of heroes, each with their unique role on the battlefield. These heroes fall into three primary categories: Tank, Damage, and Support.
Let's take a closer look at these roles and the heroes that embody them:
Role
Description
Heroes

Role

Tank

Description

Tanks are the frontline warriors who absorb enemy damage and disrupt fortified positions. They lead the charge and create space for their team.

Heroes

D.VA, Doomfist, Junker Queen, Orisa, Ramattra, Reinhardt, Roadhog, Sigma, Winston, Wrecking Ball, Zarya

Role

Damage

Description

Damage heroes are the aggressors, seeking out and engaging the enemy with a wide array of tools and abilities. They can be fearsome but often need backup to survive.

Heroes

Ashe, Bastion, Cassidy, Echo, Genji, Hanzo, Junkrat, Mei, Pharah, Reaper, Soldier: 76, Sojourn, Sombra, Symmetra, Torbjörn, Tracer, Widowmaker

Role

Support

Description

Support heroes are the backbone of their teams, focusing on healing, shielding, boosting damage, and disabling foes. They empower their allies for victory.

Heroes

Illari, Ana, Baptiste, Brigitte, Kiriko, Lifeweaver, Lucio, Mercy, Moira, Zenyatta
These heroes, with their unique abilities and playstyles, create a dynamic and ever-evolving battlefield in Overwatch 2. Whether you prefer to lead the charge, deal massive damage, or support your team, there's a hero and a role that suits your playstyle in this thrilling world of competitive gaming.
Popular Overwatch Events to Bet On
Overwatch, despite its original development not primarily focusing on eSports, quickly became a prominent player in the competitive gaming scene after the launch of its first game.
Here is an overview of the tournaments and competitions tiers:

Overwatch League (OWL)
At the zenith of competitive Overwatch lies the Overwatch League (OWL), the pinnacle tournament in the eSports world for the game.
This prestigious league gathers the best of the best, with twenty top-tier teams from the Overwatch community vying for glory on grand stages. The Overwatch League unfolds in a dynamic structure, featuring seasons, splits, mid-season tournaments, and playoffs, creating a thrilling narrative for fans and players alike.
Overwatch World Cup
The Overwatch World Cup (OWWC) is a yearly international eSports competition orchestrated by Blizzard Entertainment. Launched in 2016, the tournament continued annually until 2019.
Good to Know:
Saudi Arabia won the Overwatch World Cup 2023.
Following a three-year pause, the OWWC resumed in 2023, marking the return of this prestigious event to the global eSports scene.
Overwatch Contenders
Complementing the Overwatch League is the Overwatch Contenders series, an A-tier competition that spans the year.
It encompasses a multitude of sub-tournaments hosted across the globe, boasting diverse team rosters, individual prize pools, and unique paths to qualification. This robust circuit offers emerging talent a chance to shine and make their mark on the esports stage.
In addition to the top-tier and A-tier events, Overwatch's eSports ecosystem encompasses C, E, and D-tier competitions, such as the Open Divisions and EBC EMEA, further enhancing the game's competitive diversity.
Best Overwatch League Teams to Bet On
In the ever-evolving world of the Overwatch League, staying on top of the game's best teams is a must, and that's where power rankings come into play. These rankings provide valuable insights into the strongest and most consistent teams in the league, occasionally uncovering a dark horse ready to steal the show.
As we step slowly into the 2024 season, there are some standout teams to keep a close eye on:
The Florida Mayhem (reigning OWL champions)
The San Francisco Shock
Shanghai Dragons
Seoul Dynasty
Hangzhou Spark
Dallas Fuel
Atlanta Reign
Is your favorite team on the list?
Overwatch vs. Valorant
Below is a table summarizing the key similarities and differences between Overwatch and Valorant in terms of gameplay, heroes/agents, maps, tactics, and competitive eSports:
Aspect
Overwatch
Valorant

Aspect

Gameplay

Overwatch

Fast-paced, 5v5 FPS

Valorant

Tactical, 5v5 FPS

Aspect

Heroes/Agents

Overwatch

38 heroes with unique abilities

Valorant

22 agents with distinct abilities

Aspect

Maps

Overwatch

24 maps with objectives

Valorant

13 maps designed for bomb defusal

Aspect

Tactics

Overwatch

Team coordination crucial

Valorant

Tactical strategy crucial

Aspect

Competitive eSports

Overwatch

Overwatch League, Overwatch World Cup

Valorant

Valorant Champions Tour, VCT

Aspect

Similarities

Overwatch

Team-based, objective-focused

Valorant

Team-based, abilities-based

Aspect

Differences

Overwatch

Heroes with roles and ultimates

Valorant

Agents with unique abilities
Valorant and Overwatch, two prominent contenders in the eSports arena, often find themselves compared despite their differences.
When delving into the characters and abilities, it becomes evident that Valorant and Overwatch have certain overlaps. However, their core gameplay remains fundamentally distinct.
For example Valorant adopts CS:GO's gameplay style, with guns at the forefront, while character abilities introduce a layer of complexity. In contrast, Overwatch's gameplay revolves entirely around character abilities, with hero selection playing a pivotal role in team composition.
Esports-wise, Valorant boasts a thriving and active ecosystem. It seamlessly blends Counter-Strike's gameplay elements with Overwatch's hero-centric model, propelling it to prominence in the eSports realm despite being a relatively new entrant.
Overwatch 2, while supported by the Overwatch League (OWL), arguably doesn't match Valorant's scale and dominance within the eSports landscape.
However, in the end, it really depends on your personal preferences. We find Valorant and Overwatch betting equally entertaining, especially since both offer tons of thrilling competitions in the eSports scene.
Overwatch Betting Markets
Here's an overview of the most common betting markets you can find for Overwatch competitions:
Match Winner: This is where you bet on the outcome of a specific Overwatch match.
Tournament Winner: Here, you need to pick the champion of the entire competition, making the tournament experience even more thrilling.
Handicap: Handicap betting in Overwatch allows you to level the playing field by giving one team a hypothetical advantage or disadvantage. This makes for more balanced and enticing odds.
Live Betting: With live betting, you can wager on Overwatch matches while they are happening.
Prop Bets: Overwatch prop bets are where the fun gets specific. You can bet on unique in-game events, like who will score the first kill or which team will select a particular hero first. It's all about predicting those exciting, game-changing moments.
Overwatch Betting: Tips & Strategies
Betting on Overwatch matches can be both exciting and rewarding, but it's essential to approach it with a strategic mindset. Here are some Overwatch betting tips to help you make informed wagers:
Understand the Game: Get to know Overwatch inside and out. Understand the heroes, their abilities, and how different maps work. This knowledge is crucial for predicting match outcomes.
Follow the Scene: Stay updated with the Overwatch competitive scene. Follow tournaments, player performance, and meta shifts. This information will help you make more accurate predictions. Plus, we really recommend browsing sub-Reddit forums such as r/Overwatch and r/Competitiveoverwatch for insight from fellow bettors and gamers.
Analyze Team Performance: Study team statistics, including win rates, recent performance, and head-to-head records. Analyzing how teams match up against each other can provide valuable insights.
Consider Map Pool: Teams have varying strengths on different maps. Knowing a team's map pool and their opponent's preferences can be advantageous when placing map-specific bets.
Bankroll Management: Practice responsible bankroll management. Set a budget for your bets, and avoid risking more than you can afford to lose. Diversify your bets and avoid going all-in on a single wager.
Research Bookmakers: Choose reputable and licensed bookmakers with a history of fair betting practices.
Conclusion
In a world where eSports and Bitcoin collide, our guide has provided all you need to know about betting on the Overwatch League.
We've explored the top Overwatch betting sites, equipped you with the essential steps to get started, and delved into the best teams and events worth putting your Bitcoin on.
So, whether you're a seasoned eSports betting pro or just dipping your toes into the action, we hope this guide has been your trusty sidekick in navigating the world of Overwatch betting
Frequently Asked Questions
Can I bet on Overwatch with crypto?
Yes, you can bet on Overwatch using crypto or fiat currencies. Our top choice for Overwatch betting is
Cloudbet
.
What are the best Overwatch tournaments to bet on?
The best Overwatch events to wager on are Overwatch League (OWL), Overwatch World Cup, and Contenders.
Is Overwatch betting safe and legal?
The safety of the Overwatch betting depends on the platform you're using. A reputable platform has security measures, preferably a valid gambling license, and offers a decent customer support.
Is Overwatch League betting legal?
Overwatch League betting is considered legal, but you should check your country's local gambling regulations before placing any bets.