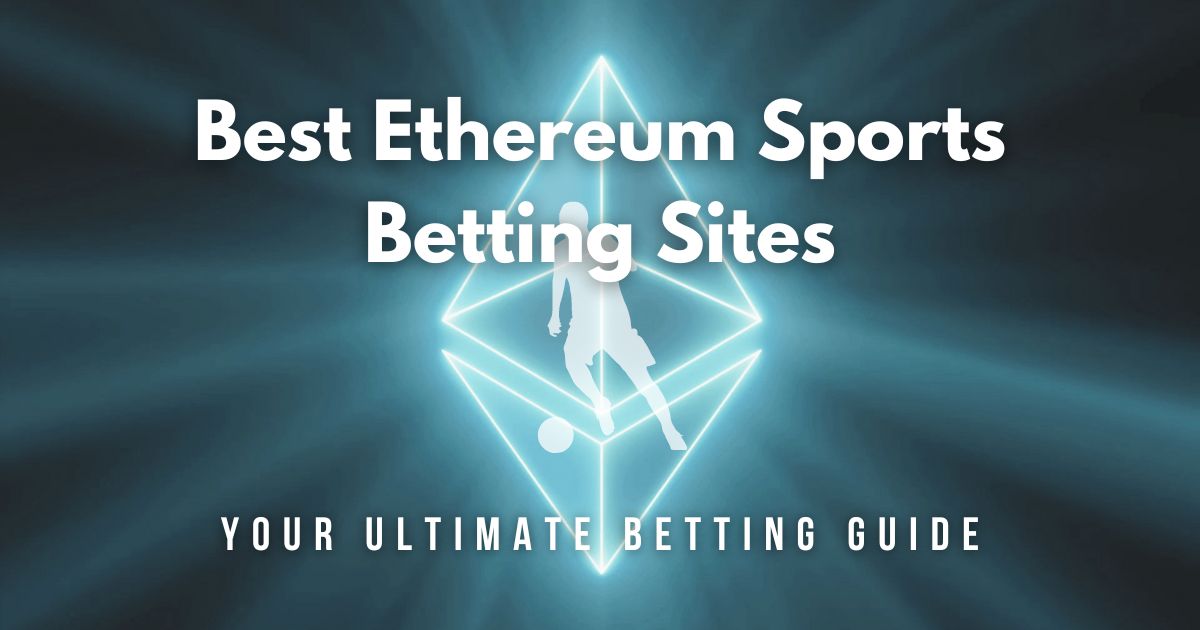 Best Ethereum Sports Betting Sites: Top Picks in 2023
If you're an online gambler, chances are you've heard of Ethereum-based sports betting and the associated advantages it provides. But how exactly does this type of betting work? Is it really more beneficial than using traditional payment methods like credit cards or PayPal?
In this article, we'll dive into Ethereum sports betting, explore both its advantages and disadvantages, and help you decide if it's the right fit for your gambling needs.
So grab your coffee (or energy drink), and let's get started!
Our Review Process
Before we dig into the best Ethereum sports betting sites, let's take a closer look at our review process. After all, we want to assure you that we take evaluating sportsbooks seriously.
We create an anonymous account with the Ethereum sports betting site.
We test the user experience of the sportsbook. Once we have registered an account with a betting site, we like to have a general feel of how user-friendly the site is. Is the navigation and website structure logical and simple to follow? How easy is it to access the wallet and deposits? How many and what kind of sports categories are there? Are there any good bonuses? You get the drill.
We deposit, place bets and withdraw. Next, we exchange some cash for Ether coins and place bets on different sports events. Emphasis on different, as we like to have a good knowledge of several betting markets and odds available rather than just sticking to one. If we are lucky enough to win some sweet Ether, we try out the sportsbook's cash-out process. Is it speedy? What are the fees, if any? We will take all of that into consideration.
We read the small print. We dive into the Terms and Conditions to learn everything about the legal stuff and will present you with up-to-date information.
We check possible country restrictions. Since Ethereum sports betting sites might have geographical restrictions, we make sure to test out the site using a VPN and see how the sportsbook delivers in different countries.
We talk to customer support. No business is good without professional customer service to provide help when needed. We will check what support options are available and test them.
And there you have it. Our review process for Ethereum betting sites. But now, let's move on to our favorite Ethereum sportsbooks.
Best Ethereum Sports Betting Sites
Stake – Amazing Sports Promotions
Stake is a well-known name in the world of cryptocurrency sportsbooks – and with good reason. Equipped with Ethereum compatibility, Stake delivers a secure, fun, and seamless betting experience when wagering on your favorite sporting events.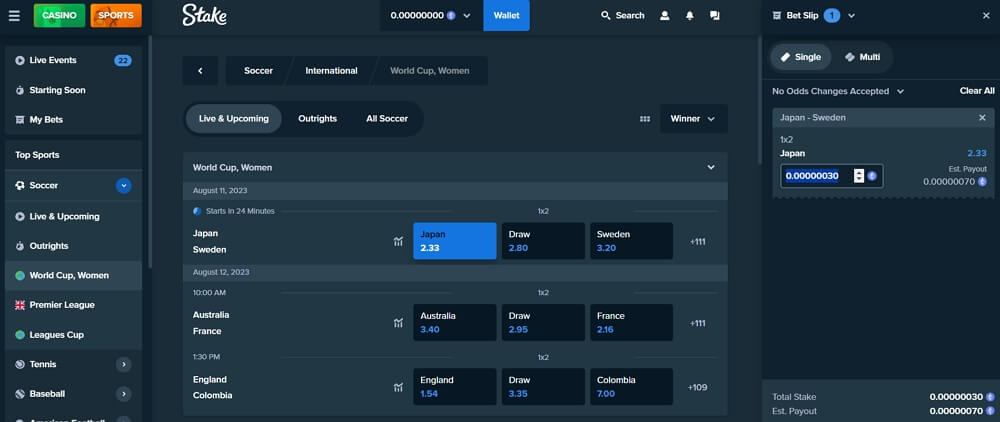 Stake's trustworthiness is further demonstrated by its impressive partnerships, including being the official partner of UFC betting. Plus, they cooperate with several English soccer clubs, including Everton Football Club and Watford Football Club.
| | | | |
| --- | --- | --- | --- |
| Welcome Bonus | Sports Games | eSports | Live Betting |
| No | 30+ | Yes | Yes |
Features:
User-friendly site: 15+ languages, in-game chat, bet builder, and 24/7 live support
Legit and safe: two-factor authentication, anonymous, Curacao gambling license
Fantastic VIP program and promotions: you can find promos for basketball, tennis, hockey, and also for eSports betting.
Competitive odds
Let's have a look at Stake's pros and cons:
Pros:
✔️ No minimum deposit
✔️ Fast withdrawals
✔️ Vast selection of coins
✔️ Multiple betting markets
Cons:
❌ No welcome bonus
❌ KYC check might be applicable
BC.Game – Best Selection of Altcoins
BC.Game is the hottest name when it comes to gambling, offering a wide range of options and great promotional deals. With an expansive Ethereum-friendly sportsbook, they offer up tons of betting choices, all suitable for savvy crypto-enthusiasts like yourself.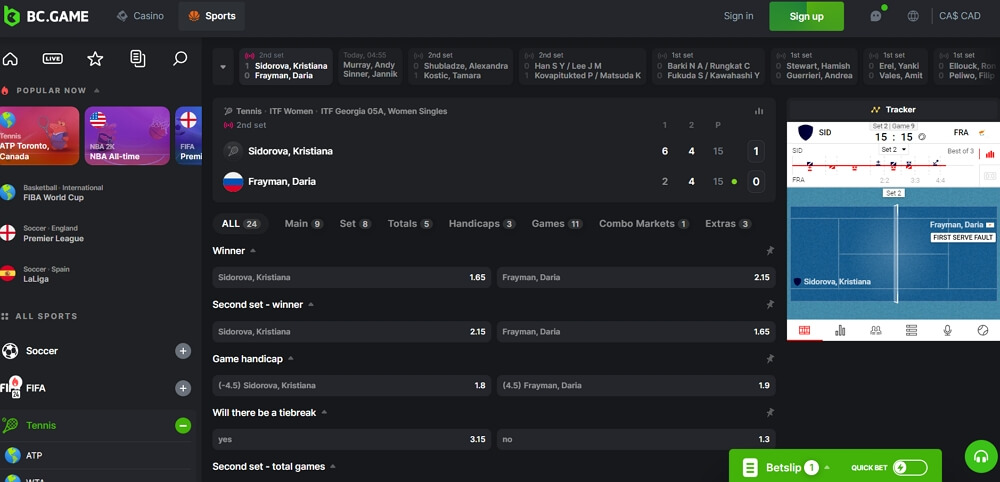 And even better, BC.Game is licensed by Curacao and is a verified operator of the Crypto Gambling Foundation, so you don't have to worry about any funny business.
| | | | |
| --- | --- | --- | --- |
| Welcome Bonus | Sports Games | eSports | Live Betting |
| 360% first deposit match | 40+ | Yes | Yes |
Features:
Superb payment options: 50+ cryptos and on-site crypto exchange
User-friendly: 24/7 live chat, mobile responsive
Safe: 2-FA authentication and provably fair
Top-notch sports betting: Array of betting markets and competitive odds
Generous offers: VIP club and free bets
Let's have a look at the BC.Game's pros and cons:
Pros:
✔️ No minimum deposit
✔️ Fast withdrawals
✔️ Newbie-friendly site design
✔️ Anonymous
Cons:
❌ No bet builder
❌ Small transaction fee is charged when withdrawing
Cloudbet – Best for Ethereum eSports Betting
Cloudbet has been a pioneering force in the world of online crypto betting since its launch in 2013, making it one of the oldest brands operating in this space.
And since its inception, Cloudbet has gone from strength to strength: it now boasts a great Ethereum sportsbook with matches from all manner of leagues and tournaments.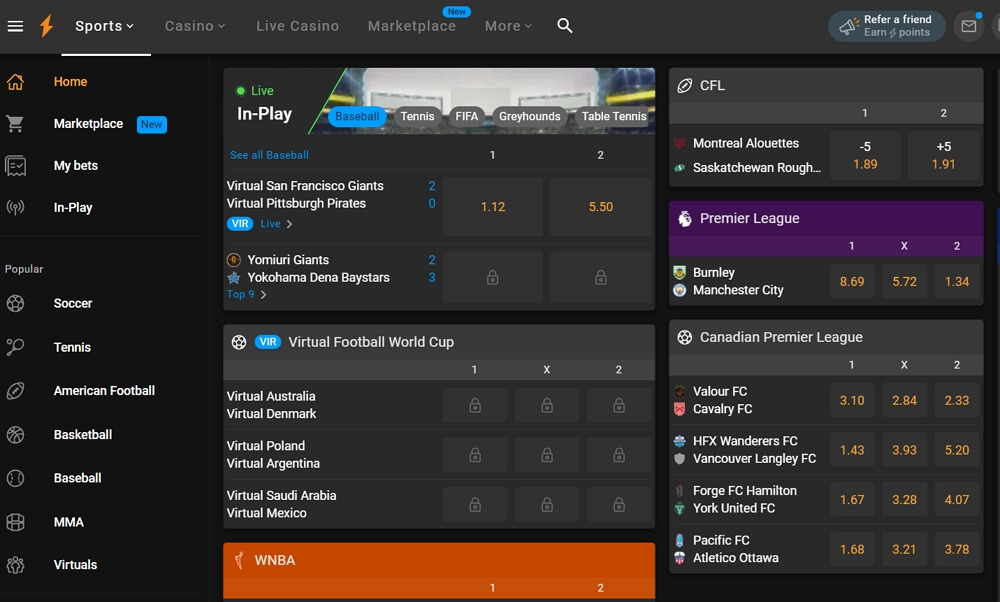 But that's not all: every game on this site is provably fair, giving users assurance and peace of mind that their bets will always be respected.
| | | | |
| --- | --- | --- | --- |
| Welcome Bonus | Sports Games | eSports | Live Betting |
| Up to 5 BTC | 30+ | Yes | Yes |
Features:
Original bonuses and lavish prizes
Legit and secure: Curacao gambling license and under KYC and AML policies
Modern and user-friendly: 18+ languages and Ethereum compatible
Amazing sports betting: a variety of betting markets, competitive odds, and a great selection of sports games
Let's have a look at Cloudbet's pros and cons:
Pros:
✔️ Very generous welcome bonus
✔️ 15+ eSports games
✔️ 24/7 virtual sports option
✔️ Great community forum
Cons:
❌ Live chat is slow
❌ Welcome bonus points can only be released by playing casino games
Tips on Finding the Best Ethereum Sports Betting Sites
When it comes to finding the perfect Ethereum sports betting site, research and caution go a long way. With that in mind, we have compiled a list of the best hacks that will help you make a more informed decision about which Ethereum sportsbook to go with.
Let's dive in.
Reputation
When it comes to online gambling, having a license is an essential element for players and providers who want to make sure their games are on the up and up.
Not only is a license necessary for operators to meet the compliance requirements, but it also serves as a symbol of trustworthiness, reassuring bettors that their money is safe with them. After all, no one wants to bet at a sketchy sportsbook – that's how stories of rip-offs start!
Casinos Blockchain
Here, at Casinos Blockchain, we only recommend legit and fully licensed sportsbooks
What kind of licenses should you keep an eye on when choosing an ETH sports betting site?
Curacao and Malta are the two main names that will pop up in relation to gambling licenses. Also, another huge green flag is when a sportsbook is a verified operator of the Crypto Gambling Foundation.
Country Restrictions
If you're an avid sports bettor, you want to ensure that there are no country restrictions when signing up with an Ethereum sportsbook. After all, betting your hard-earned Ether on the right matches doesn't do much good if you can't actually withdraw your winnings.
Thankfully though, even with country restrictions, there is still hope. Using a Virtual Private Network (VPN) and selecting the right server location, it's still possible to access some sportsbooks from blocked locations.
But mind the KYC and AML policies because if a sportsbook has those (and most reputable Ethereum sports betting sites do), they have a right to ask to verify your identity.
Competitive Odds and Betting Markets
Competitive odds are key to getting the most bang for your buck when choosing a sportsbook. After all, better odds mean higher potential winnings and less risk of big losses.
Casinos Blockchain
Browse several sportsbooks to find out which one offers the best odds for your selected sports game.
A variety of betting markets is important, too. Having different types of bets to choose from means, you'll never get bored and can mix up your strategy whenever the opportunity arises.
Bonuses
A good sportsbook will typically offer some kind of sign-up or welcome bonus that can help get your bankroll started in the right direction. At the same time, loyalty bonuses reward long-term bettors with additional perks based on their betting volume.
It's also essential to keep an eye out for reload bonuses – this is usually where they give extra credits or free bets whenever you make a new deposit. This helps keep your wallet topped up, so you don't run out of Ether in the middle of a run of bad luck.
To sum up, bonuses are great for those who are just starting out with sports betting, as well as seasoned bettors looking for extra value in their bets. So make sure to check the bonus details before diving into any new sportsbook!
Want the best bonuses? Check out our top 3 Ethereum sportsbooks:
Privacy
Ethereum sportsbooks provide bettors with a unique advantage: anonymity. With Ethereum technology, no personal information has to be revealed to place a bet.
Not only do encrypted transactions make it hard for third parties to track betting activity, but you can also take advantage of the privacy when making deposits or withdrawals to or from your accounts.
However, KYC policies can be an essential consideration when it comes to upholding player anonymity. These policies require sportsbooks to receive identifying information from their customers. The sports betting site can collect everything from full name and address to date of birth, occupation, nationality, and even IP addresses.
The good news? KYC policies aren't usually invasive and are mostly triggered in case of suspicious activity, like large withdrawals.
Why Choose Ethereum for Sports Betting?
Are you still unsure whether to choose Ethereum as your preferred currency for betting?
If so, here's a quick recap of what makes Ethereum unique.
Similarly to most other altcoins, Ethereum is a decentralized platform that runs smart contracts, which enables users to buy and sell goods or services without requiring a middleman. This makes it incredibly easy for anyone to make transactions securely and quickly online.
But what makes Ethereum special is that it's more than just a payment network for cryptocurrency– it's also touted as 'the world computer' thanks to its fantastic functionality.
According to its founders, Ethereum's goal was to create a platform that could execute smart contract technology using the blockchain to make programs more robust and less prone to fraud.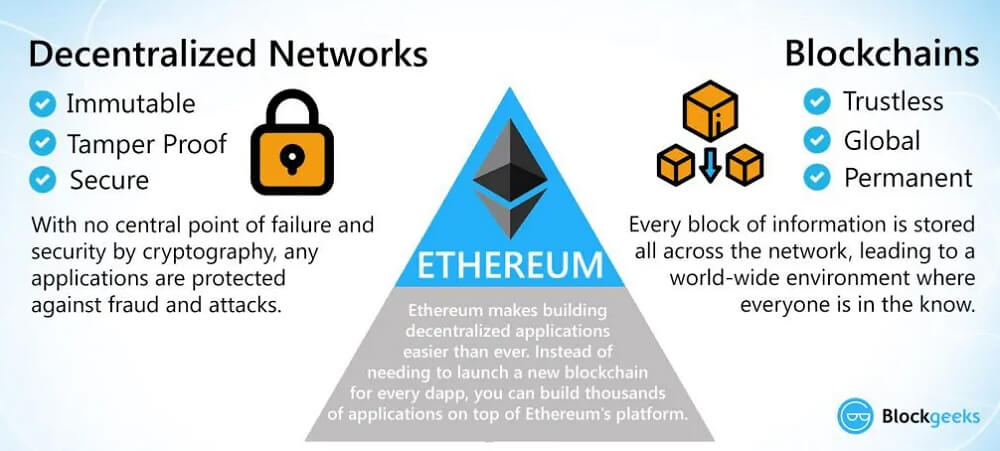 So you can think of Ethereum as one computer powering the entire planet while its public node network ensures everything runs smoothly.
Oh, and that's not all!
You've probably heard the buzz about "The Merge," right?
Casinos Blockchain
The Merge is taking the Ethereum network to new heights! By moving from a proof-of-work system to a proof-of-stake system, it will provide a faster and more cost-effective blockchain process with significant environmental benefits as well.
With less energy consumption required to keep things running smoothly, it's definitely going to be good for the planet. Talk about ambition!
But still, why should you choose Ethereum over more popular Bitcoin and even fiat money?
While Bitcoin may have quite a cult following, Ethereum has become increasingly popular because of its advanced technology and greater scalability.
For instance, using Ethereum for sports betting provides faster transactions and lower fees than Bitcoin – no more waiting around for confirmations!
And, with Ethereum being more development-friendly than other cryptos on the market, developers can continue to adapt it to match customer needs without limitation.
Plus, many reputable crypto sports betting exchanges have built their platforms on the Ethereum blockchain because of the abovementioned benefits.
So why not try it out?
And when it comes to choosing Ethereum (or any other crypto) over fiat money, then it looks like crypto is about to shake up the gambling market!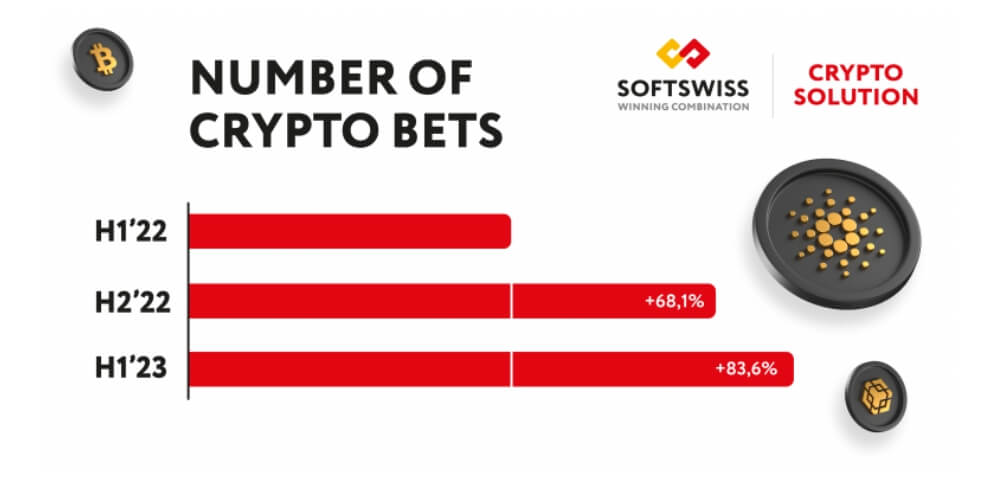 When comparing crypto bets between H1 2023 and H1 2022, the analysis shows stable 16.5% growth in monetary terms.
Notably, the number of bets has increased by 83.6% since the second half of 2022 – that's pretty wild, isn't it?
Casinos Blockchain
Cryptocurrency's growing by leaps and bounds. If trends persist, we might see crypto's dominance over fiat in no time!
How to Get Started with Ethereum Sports Betting?
Now that you've taken a closer look at our top Ethereum sportsbooks and learned some tips on selecting the best bookie for your needs, you're probably eager to put them to the test yourself.
Well, look no further because here's a step-by-step tutorial on how to get started with Ethereum sports betting:
Set up your wallet. The first thing you need to do is to set up a crypto wallet. There are many different wallets available, but for security reasons, it's best to use a registered and reputable one. Our favorite? You can't go wrong with MetaMask.
Buy Ether. Your next step would be to go and find a suitable crypto exchange and buy some Ether coins. Some of the more popular exchanges are Binance and Kraken, but many more options exist.
Transfer Ether to your wallet. After you get your coins, the next step would be transferring them to your wallet. This simple process requires you to copy the address of your crypto wallet and paste it into the "Send" field of the exchange. And done!
Register to an Ethereum sports betting site. Next, all you have to do is sign-up for an Ethereum sportsbook.
Deposit and start betting. Once you've signed up for your preferred sportsbook, the last step would be to deposit some Ether. As soon as the deposit is made, find your favorite match, team, or league and start betting.
And that's all! Follow those easy five steps, and you'll be placing wagers in no time.
Ethereum Sports Betting: The Advantages and Disadvantages
Wagering with Ethereum is no doubt appealing – but it's worth considering the pros and cons before getting ahead of yourself and putting your trust in it.
On the one hand, the decentralized nature of cryptocurrency payments makes them less vulnerable to fraud than traditional payment methods.
On the other hand, there is still a lack of regulation on blockchain-based sports betting platforms, making it more difficult for bettors to find support if something goes wrong.
But let's have a more detailed look at each pro and con.
The Benefits of Betting with Ethereum
✔️Secure and encrypted. Your data is always safe from prying eyes since all transactions are recorded on the blockchain ledger, so there's no room for fraud or manipulation.
✔️Low transaction fees are another great benefit of betting with Ethereum. Compared to traditional banking methods like credit cards, PayPal, and even Bitcoin, the fees are significantly lower—which means more money in your pocket! And best of all? All payments are made instantly—no waiting around for days while your payment clears!
✔️Generous sign-up bonuses. Don't forget to check out any bonus offers before making your bet! Want to know the best part? The bonuses are usually much more prominent than with traditional bookies since there's no middleman involved, and the saved costs can go to promotions.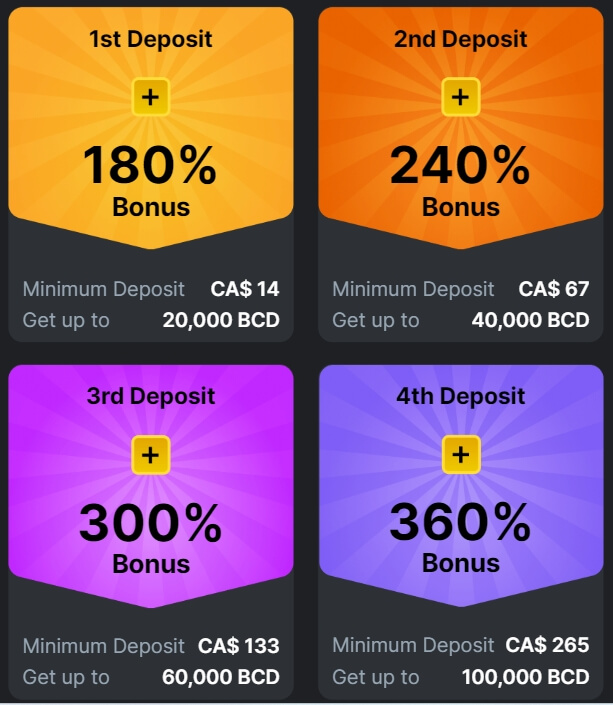 ✔️ Anonymous. Ethereum provides discrete and trustworthy sports wagering. How? Since no personal data is tied to your account (besides email), nobody will know who you are.
✔️ No impact of inflation. Ethereum is a purely digital experience with no country or form of currency tied to it, which means – no pesky inflation to worry about!
✔️ Play from anywhere. Since betting with Ethereum is entirely anonymous, you can play from anywhere in the world, including countries where gambling has strict regulations (hinting at VPN).
The Downsides of Ethereum Sports Betting
There's no good without the bad. So let's have a closer look at the cons that come with Ethereum betting:
❌ High volatility. Ethereum and other cryptos, in general, are volatile, which means that you can overnight lose significant amounts of money. This makes betting much riskier than with fiat currency. On the other hand, the volatility can also go another way, resulting in gains.
Psst! If high volatility is a no-go for you, try out altcoins like Tether instead.
❌ Lack of regulation. Cryptos and Ethereum are kind of a "wild west," meaning that the unregulated market can lead to much sketchy stuff, such as money laundering and fraudulent transactions.
Hopefully, the above helped you better understand all of the ins and outs of Ethereum sports betting so that you can make an informed decision about whether or not it's right for you.
To Sum Up: Ethereum Sports Betting
So there you have – all the information you need to start betting on sports using Ethereum! With its secure encryption technology and low transaction fees, betting with Ethereum has never been easier or more cost-effective.
So why not give it a try today? Who knows—you might just hit the jackpot!
Frequently Asked Questions
Is betting with Ethereum safe and legal?
Yup! Betting with Ethereum is perfectly safe and legal, as with any other cryptocurrency. However, always check your country's regulations and whether the sportsbook has a gambling license.
What are the best Ethereum sports betting sites?
Can I bet on eSports with Ethereum?
Absolutely. Betting with Ethereum on eSports is the same as for any other sport. Just sign up with your preferred sports betting site, make a deposit and start betting.
Can I use VPN for Ethereum sports betting?
Yep! However, think twice before you do it as it might lead to identification problems if the sportsbook is under KYC and AML policies.