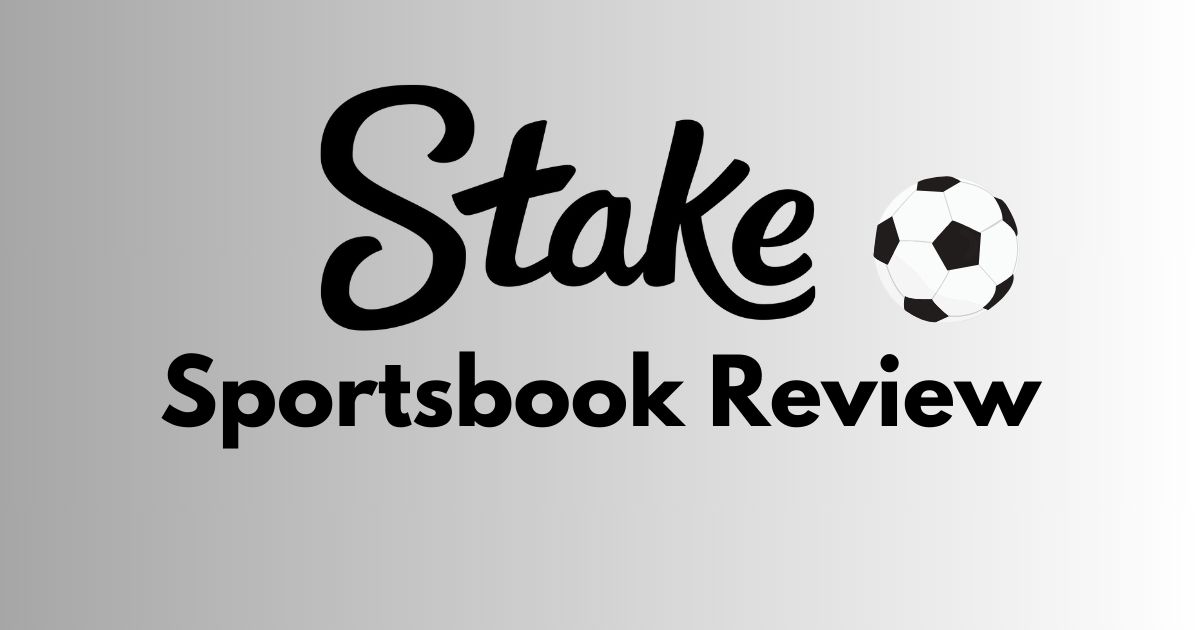 Stake Sportsbook Review
Looking for a user-friendly and exciting betting site? Look no further than this Stake sportsbook review. With over 100,000 daily bets, Stake is a top choice for online punters.
What sets Stake apart?
Firstly, they offer highly competitive odds and a range of betting markets, ensuring you get maximum value.
Secondly, they provide options for over 30 different sports games, so you can bet on your favorites.
Lastly, Stake is 100% legit and licensed, guaranteeing your security.
Curious to know more? Let's dive into what makes Stake Sportsbook special!
🎁 Bonuses
Here's the thing. While BC.Game (one of the main Stake competitors) comes with an up to 360% match deposit, Stake, on the other hand, doesn't offer a welcome bonus. However, don't rush to assume that they're not worth the fuss.
Let's discuss why not having a welcome bonus isn't necessarily a bad thing.
Welcome bonuses usually come with annoying wagering requirements, which are often almost impossible to achieve.
Good to Know
Stake doesn't offer a welcome bonus but they make it up with their promos and VIP Program.
For example, to qualify for a bonus, you'd have to deposit a minimum amount of crypto, bet on certain sports games, and not to mention, you can only withdraw the earnings if you have fulfilled their extreme welcome bonus requirements.
Talking about crazy wagering requirements.
Anything up to 20x isn't too hard to fulfill, but imagine betting with a requirement of 60x or more. This means that for a 100 USD bonus, you'd have to bet 6000 USD just to qualify for withdrawal.
100 USD bonus x 60 wagering requirement = 6000 USD
In this case, high levels of turnover requirements simply aren't justified, and their sole purpose is to prevent you from ever getting your hands on the bonus.
So, instead of attracting you with one-time deals, Stake focuses on long-term achievements such as its fantastic VIP program.
VIP Program
Becoming Stake's VIP is a straightforward process:
Sign up and start betting on the various sports games that you can find in their sportsbook.
Bet and get closer to unlocking the new VIP levels and getting further benefits.
Instantly claim your bonuses without any wagering requirements.
There's a total of five VIP levels that you can climb:
Bronze
Silver/Gold
Platinum (1-3 levels)
Platinum (4-6 levels)
Diamond
VIP level bonuses consider a base amount per level, plus some extra depending on your recent gameplay.
For example, to reach the Bronze level (and to get an invite to the VIP club), you'd have to wager 10,000 USD on different sports or eSports that Stake has to offer. To reach the most prestigious tier, Diamond, you'd have to bet 25 million USD.
But what rewards do you get when you level up?
There are different kinds of bonuses available:
Level Up Bonuses – fixed bonuses that get bigger every time you level up.
Weekly/Monthly Bonuses – these are calculated based on your VIP level. You will receive extra for every 1000 USD you wager in the applicable period.
Daily Bonuses – these are reloaded and renewed with your VIP host once they expire.
The perks you'll receive on different VIP levels are custom-made. So, if you're a sports bettor, you won't get casino-oriented bonuses but something that will give you more value, such as different free bet campaigns on popular sporting events.
Still not convinced by Stake's VIP program?
Maybe this number will change your mind – every year, they give out over 1 billion USD in bonuses to reward players for loyalty and gameplay.
Pretty impressive, if you ask us.
Promotions
If the Stake's VIP club seems a bit too out of reach and intimidating, then don't worry, there are several other more down-to-earth promotions available.
Let's start with some of the periodic perks.
Stake sportsbook is dominated by sports events promotions that change depending on the season and when the events are being held.
For example, when researching this article, there were various promotions for NFL, NHL, NBA, English Premier League, FIFA, and more.
Double Winnings campaigns are some of the most popular and frequent promotions. For example, if you bet on whatever event it's promoted for, and your winner (including overtime) selections win, you can earn a double up to 100 USD.
Stake also offers two ongoing promotions – a $50k Weekly Raffle and a $100k Race.
$50k Weekly Raffle – wager 1000 USD to secure a ticket for the giveaway. You can earn as many tickets as possible, increasing your chances of winning 50,000 USD.
$100k Race – you'll climb up the Daily Race Leaderboard for every bet placed. Plus, the top 100 racers will receive prizes daily based on their leadership position.
Also, keep an eye on the Stake Community Forum, so you won't miss out on several other promotions that might not be advertised on their website.
💅Look & Feel
Two words come to mind when looking at Stake's website design – modern and logical.
When you browse around, everything makes sense and is easily found regardless of your knowledge of online sports gambling.
From the right side menu, you can see all the sports games offered that are categorized into different sections by popularity. And, on the site's header, you can access your wallet, profile, and chat with other bettors.
Plus, there are some extra handy features that we really like:
Access live scores to stay up-to-date on the latest match results and news worldwide.
Set up notifications so you don't miss any vital information about your upcoming matches.
Mobile Usability
Nowadays, people are more likely to browse the web on their phones rather than their computers. That's why mobile responsiveness is a huge deal and an essential part of every business.
So, how did Stake perform in this area?
Currently, there's no dedicated mobile app, but they have a browser-based application optimized for iOS and Android users.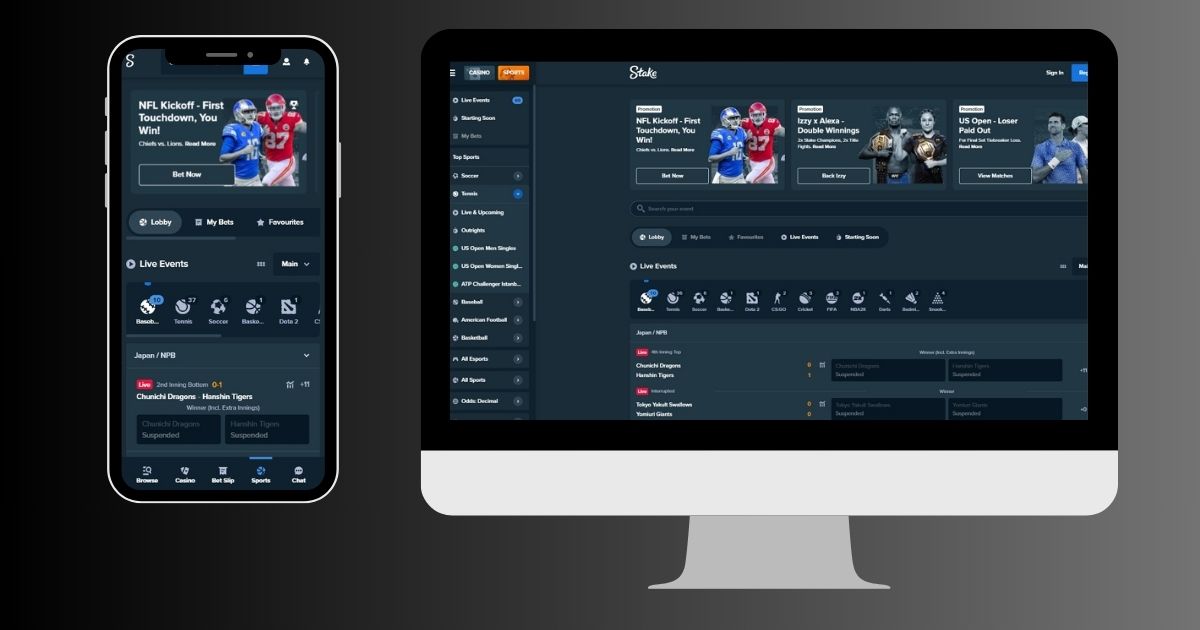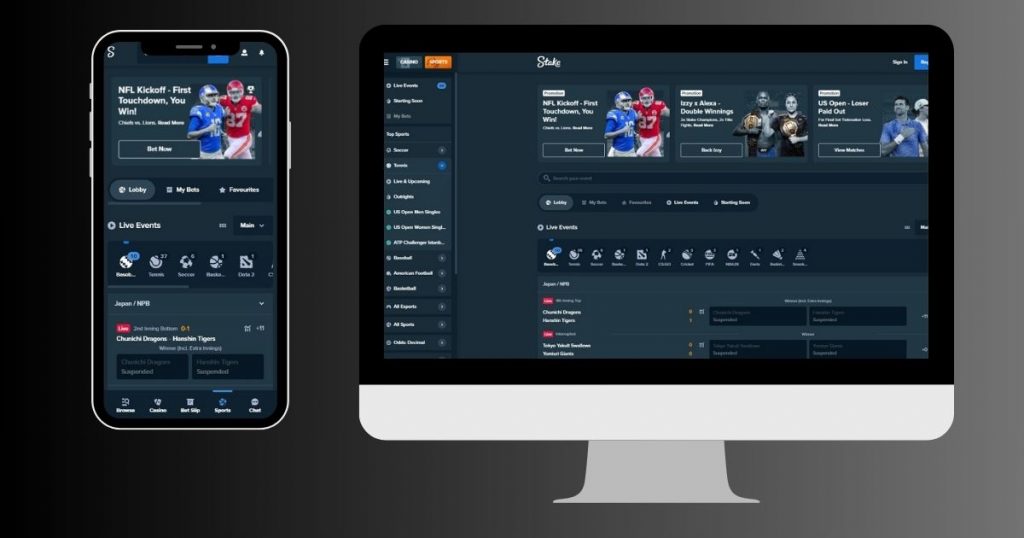 You can easily add the Stake sportsbook shortcut to your home screen and access it with one click.
🏀 Sports Selection
With over 30 sports games to choose from, Stake has plenty of options for you to bet on. What's more, you can see all live and upcoming events by navigating to the sports category of your interest.
Some of the most popular sports markets include:
Tennis
Boxing
Darts
Squash
Formula 1
Also, you can choose from the best leagues to place your bet on, such as NFL, NBA, UFC, English Premier League, and many others.
Fun Fact: Stake announced its new partnership with the Alfa Romeo F1 team in 2023, which could mean attractive odds for the Grand Prix races. Check out our F1 Bitcoin betting guide for more information.
All in all, Stake sportsbook is a fantastic bettor's dream come true as it offers every kind of betting opportunity – from soccer to futsal and beyond.
Stake Betting
Depending on the sporting event, there are multiple betting markets and strategies available on Stake.
Here are some of the most common markets you can choose from:
Correct score
Over/Under Lines
Futures and Outrights
First Goal
Handicaps
Money line
There is also an option for in-play betting and live streaming (together with a scoreboard) for multiple live events on a daily basis.
Start by navigating to the Live Events section on the left side of the menu bar, selecting the sport you want to stream, and placing your bets.
The odds for each match constantly change, and you can place multiple bets simultaneously. Plus, you have the option to cancel your bet if you feel the odds are not in your favor.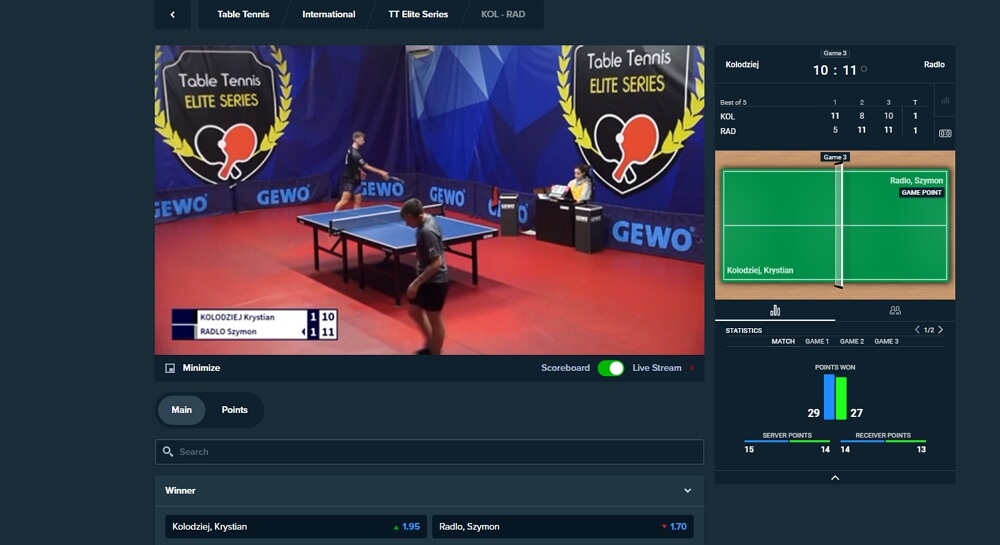 There is no maximum betting limit. However, the current minimum value for Stake sports betting is dependent on the cryptocurrency:
Bitcoin: 0.0000007
Ethereum: 0.000005
Litecoin: 0.00004400
Dogecoin: 1.5
Bitcoin Cash: 0.000016
XRP: 0.015
Tron: 0.175
EOS: 0.001925
Plus, Stake has some neat extra features that make your life easier when betting:
Bet Builder – allows you to select different bets within the same game.
Odds converter – lets you change the odds format to a preferred one. You can choose between American, decimal, fractional, Indonesian, Hong Kong, and Malaysian formats.
Stake Odds
Odds are an essential part of any bookie as they control how much value you can get out of your bets. Simply said – the higher the odds, the more money you will win.
So it's always best to compare several sportsbooks to see how competitive the odds actually are and which one can give you the most out of your money.
To better understand the Stake's odds, we will give you three comparisons of different matches and betting markets.
Let's start with an NFL football match:
UFC Odds
We compared UFC odds with two other sportsbooks, and here are the results for Jousset vs. Crosbie fight at UFC 293:
| Sportsbook | Jousset | Crosbie |
| --- | --- | --- |
| Stake | 1.68 | 2.30 |
| BC.Game | 1.62 | 2.22 |
| Cloudbet | 1.67 | 2.33 |
Cloudbet gives the highest odds for the underdog, while Stake has the best odds for the favorite.
MLB Odds
The next example is an MLB baseball match between the Washington Nationals vs. New York Mets with a winner (including extra innings) betting type:
| Sportsbook | Washington Nationals | New York Mets |
| --- | --- | --- |
| Stake | 2.04 | 1.79 |
| BC.Game | 2.04 | 1.79 |
| Cloudbet | 2.08 | 1.82 |
Here Cloudbet has the best odds for the favorite and the underdog. Stake and BC.Game are not far behind and still offer competitive value.
Valorant Odds
Our third example is for a Valorant League tour:
| Sportsbook | Xerxia | Sdobbies |
| --- | --- | --- |
| Stake | 1.15 | 4.80 |
| BC.Game | 1.15 | 4.80 |
| Cloudbet | – | – |
Stake and BC.Game offer the best value for the favorite. Cloudbet doesn't offer odds for the abovementioned match.
We can take out from these examples that Stake offers competitive but quite average odds compared to other bookmakers. However, they do offer a bit higher odds for some UFC matches.
Stake eSports
Stake has seriously upped their game in the eSports department.
Before, their selection paled in comparison to competitors like Cloudbet and Bitsler. But now, they've made a major upgrade, offering over 10 diverse eSports games to bet on.
For example, you can challenge yourself in a number of different categories:
Rainbow Six
Arena of Valor
Kings of Glory
Wilf Rift
Valorant
FIFA
Another cool thing is that there are several tournaments and betting events on the eSports games, and the odds are competitive compared to other bookies.
Plus, you can live stream some of the eSports competitions (Counter-Strike, for example) and place in-game bets.
🔏 Licensing and Safety
Stake is fully authorized and regulated by the Government of Curacao. This means they have passed all the compliance and can legally conduct operations for online gambling.
Besides being under the Curacao license, Stake is a verified operator on the Crypto Gambling Foundation network, holding the highest standard of provably fair gambling.

So, what you can take out of this information is that Stake is a legit and reliable sportsbook.
Now, let's move on to privacy.
Can I Bet at Stake Anonymously?
First, what you need to know is that Stake sportsbook is not fully anonymous. You won't have to go through the verification process during registration, but you are asked to give your full name, address, and occupation.
Another thing you need to know is that once you start depositing, you'll need to provide your personal details as well as upload your proof of identity (which is something we haven't noticed much when reviewing other bookies):
Lastly, since Stake is under a strict KYC (Know-Your-Customer) and AML (Anti-Money Laundering) policy, you might also be asked to verify your identity during withdrawals.
The KYC and AML policies are something that almost every (legit) sportsbook uses nowadays and are mostly to prevent any kind of fraud from happening.
So even if there is a chance that you have to go through verification, it's usually when Stake discovers suspicious activity on your account or you withdraw ridiculously large amounts of cash.
Geo-Restrictions
Bettors from some countries can't access the Stake sportsbook. Some of the regions include:
United States
United Kingdom
Australia
Portugal
Canada (Ontario)
Why? Mainly because of licensing problems or strict gambling regulations.
Now you're probably wondering, what if I use VPN, can I then access the Stake sportsbook?
The answer to your question is yes. However, using a VPN comes with many caveats.
As you might remember, Stake does not apply KYC during the registration, but they can ask you to verify yourself during the deposits (or withdrawals).
Good to KNow
Make sure you check your country's gambling laws and regulations before engaging in any betting activity.
So if you're betting from a restricted country with a VPN and want to cash out your earnings at one point, you might stumble upon an identification problem.
This is a huge issue in the eyes of Stake, and as a result, you can get banned, not to mention lose all your money, too.
So, to sum up, you can use VPN in theory, but we strongly recommend that you don't.
💸 Payment Options
When starting betting, one of the first questions you may ask is what kind of currencies you can use.
Since Stake is a crypto-based betting platform, the answer is quite easy – you can deposit using the tokens available on their site. The most widely used coin is perhaps Bitcoin, but you can also choose other cryptocurrencies:
Starting with Stake betting is an easy process. To deposit funds into your wallet, follow these steps:
Retrieve your deposit address, located in Wallet -> Deposit. Note that for a deposit, you must give out personal information like your full name, date of birth, and address.
Choose the cryptocurrency that suits your needs.
Use your deposit address as the "Send to" location for your wallet or exchange.
If you need to deposit with fiat currency, you can do that via Moonpay, which has many supported payment options, including Visa, Mastercard, Google Pay, and Apple Pay.
Deposits and Withdrawals
Now, let's dive into deposits.
Probably the first question you want to ask is whether there's a minimum deposit.
The answer is no!
Yep, you read it right. Stake has no deposit limits for crypto, which means you can cash in as much or little as you want. This is rather refreshing, as many sportsbooks have at least a 25 USD deposit limit.
Good to Know
Stake has no minimum or maximum deposit limits.
When it comes to withdrawals, cashout times in Stake are super-fast. The majority of withdrawal requests are processed in less than an hour. The same applies to bets which are ready for withdrawal as soon as your bet has been won.
Sounds too good to be true, right?
Well, there is a small drawback – transaction fees.
Transaction fees are not something out of the ordinary. Many sportsbooks apply them, and Stake is no exception. The minimum amounts and fees depend on the selected cryptocurrency.
For example, the minimum amounts for withdrawals are:
Ethereum: 0.004 ETH (with a fee of 0.0005 ETH)
Bitcoin: 0.0002 BTC (with a fee of 0.00007 BTC)
DOGE: 30 DOGE (with a fee of 1.5 DOGE)
The good thing is that the fees will remain the same regardless of how much you cash out.
As far as the maximum amount for withdrawals is, there isn't any. You can cash out as much as you want.
💁‍♀️ Customer Support
Stake offers several customer support options:
Help Center
Blog
Community Forum
Live chat
Since live chat is the fastest way to resolve issues, we tested it out to get a better sense of Stake's real-time support.
The chat option is available in the bottom right corner, which opens a new window.
First, we received a suggestion for some reading materials from a chatbot, which was quite useful. However, to chat with an actual human being, we had to wait for more than ten minutes to get connected.
Overall, even though all our queries were answered, the replies were a bit delayed and made us wonder, at times, if the customer support rep forgot about us. Still, the overall experience was still pleasant.
Besides their in-house support, Stake is also active on social media channels such as:
Facebook
Twitter
Instagram
Our opinion? You can trust Stake to have your back when any issues or questions arise!
Our Verdict
In a nutshell, Stake sportsbook has a lot going for it.
They've got a ton of sports options, great odds, and awesome promotions for major events like the NFL and MLB. Plus, they're totally legit and licensed, which is a big plus. And if you're into eSports, they've got you covered there too.
But, there are some downsides to consider.
The lack of a welcome bonus might be a bummer for newbies looking for a sweet deal to start with. Also, they have geo-restrictions in place, so not everyone can jump in. And one more thing, there's no dedicated mobile app for those who like to bet on the fly.
So, if you're after a wide range of sports options and good odds, Stake could be your jam. Just keep in mind the welcome bonus situation and those geo-restrictions. It all boils down to what you're looking for in a sportsbook.
Frequently Asked Questions
Is Stake sportsbook legit?
Yep! You can bet on Stake being a fully legit and safe sportsbook. They have an online gambling license from Curacao and are also a verified operator on the Crypto Gambling Foundation network, which holds the highest standard of provably fair gambling.
In what countries is Stake allowed?
Stake is accessible in most countries, such as Canada (besides Ontario), Mexico, Germany, Brazil, and many more.
Currently, Stake doesn't have a dedicated mobile app for Android or iOS users. However, their website is well-optimized for all devices.
Can I use VPN to access Stake sportsbook?
Yes. But it's not recommended as it might cause issues during the KYC process.
Where is stake.com located?
Stake is an Australian-Curaçaoan online sportsbook and casino. They have offices in Serbia, Australia, Cyprus and staff globally.