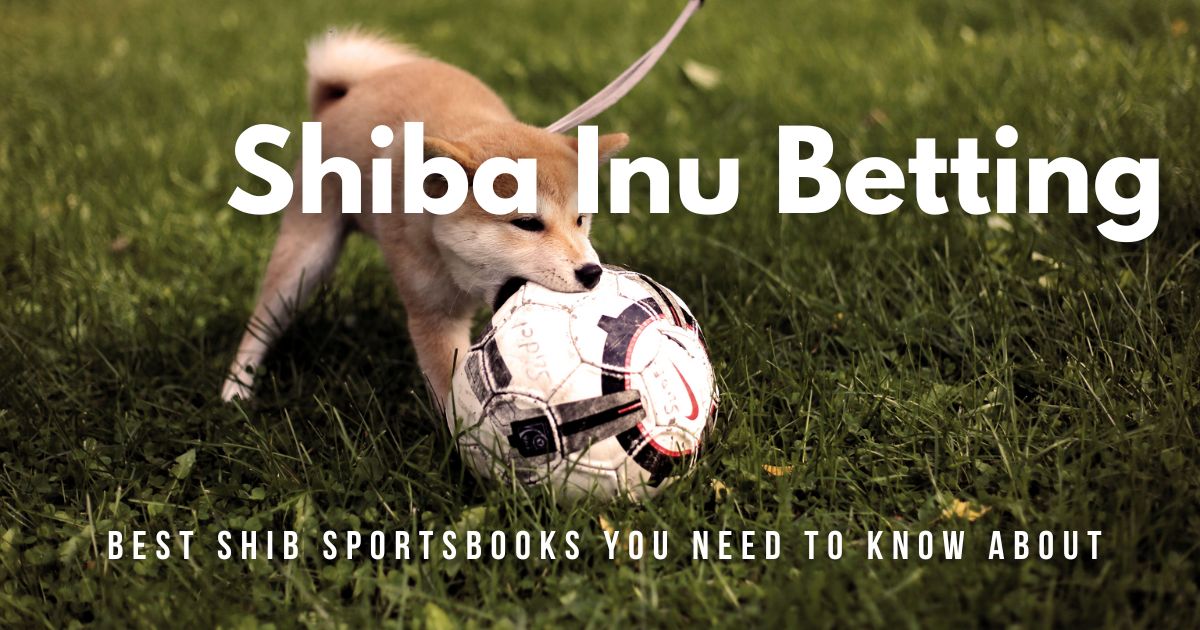 Shiba Inu Betting: Best SHIB Sportsbooks (2023 Guide)
Looking for a new and exciting way to enjoy sports betting? Look no further than Shiba Inu betting!
These adorable and charismatic dogs have taken the internet by storm, and now you can get in on the action by placing bets on sports teams and events using Shiba Inu cryptocurrency.
In this article, we'll cover the best SHIB sportsbooks, how to get started, and the pros and cons of Shiba Inu betting.
Ready? Awesome! Let's dive in.
Best Shiba Inu Sports Betting Sites
Thanks to the growing popularity of SHIB coin, more and more crypto betting sites accept it as a form of payment.
You can see the complete list of SHIB-compatible bookies here:
However, some betting sites stand out more than the rest, and we took the time to list some of the top-performing Shiba Inu sportsbooks.
Let's have a look.
Stake – #1 SHIB Bookie
Stake has earned a spot on top sportsbooks lists due to its sleek, modern design that is intuitive and accessible for users.
One of the standout features of Stake is its impressive array of ongoing sports promotions that are updated frequently to match major sports events.
In addition to these impressive offerings, Stake boasts high-profile sponsorships with top English soccer clubs and the Formula 1 Alpha Romeo team.
Stake also doesn't disappoint when it comes to cryptocurrency options, offering over 20 different choices for you to try out besides the famous Shiba Inu.
Key Features:
Welcome Bonus: no welcome bonus, dozens of ongoing sports promotions.
Cryptocurrencies: 20+.
Sports and eSports: 20+ sports and 5+ eSports.
Customer Support: live chat, email, blog, FAQ.
License: Curacao.
All in all, for sports fans looking for a top-notch betting experience, Stake sportsbook is a platform worth looking into:
BC. Game – Best Selection of Meme Coins
If you're looking for a unique and entertaining sportsbook experience, look no further than BC.Game.
This site is known for its playful and engaging design, perfectly reflecting the fun-loving spirit of the Shiba Inu character and the cryptocurrency it represents.
But beyond the cute aesthetic, BC.Game offers a wide range of sports and eSports events for users to bet on.
And if you ever need a break from the betting action, the site also features a crypto casino that adds even more variety to the mix.
One standout feature of BC.Game is that it's one of only a handful of bookies that accept NFTs as payments (Rollbit is another example), giving users even more flexibility and choice regarding how they wager.
Key Features:
Welcome Bonus: up to 360% match deposit bonus.
Cryptocurrencies: SHIB, DOGE, BTC, and 80+ more.
Sports and eSports: 40+.
Customer Support: 24/7 live chat, blog, community chat, and email.
License: Curacao.
With all these exciting features and more, BC.Game is a top choice for anyone looking for a truly unique and enjoyable Shiba Inu gambling experience:
Cloudbet – Amazing eSports Selection
Cloudbet has been making its mark as a trustworthy sportsbook for over ten years.
Cloudbet has become a favorite among avid sports fans, offering a wide range of live matches daily. But it's not just sports matches that you'll find here.
This reputable sportsbook also offers casino games, providing an experience to cater to those who want to try something new.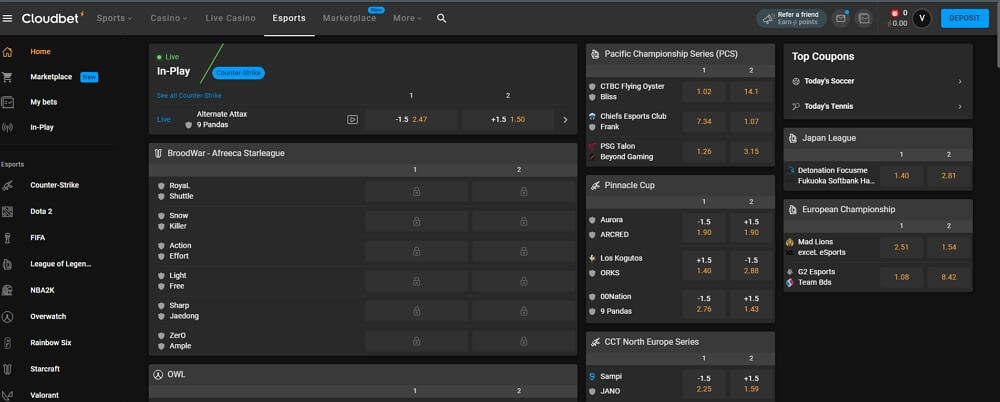 What sets Cloudbet apart from its competitors is its extensive selection of eSports and virtual games.
It's evident that the folks behind Cloudbet are putting in a lot of effort to make the betting experience as seamless as possible.
Key Features:
Promotions: up to 5 BTC* welcome bonus, ongoing promotions, and rewarding VIP program.
Cryptocurrencies: 20+
Sports and eSports: 30+, plus 10+ eSports games.
Customer Support: 24/7 lice chat, community chat, FAQ, email.
License: Curacao.
*The welcome bonus applies only to casino games.
With its reputation and ever-expanding options for sports fans and casino-goers alike, it's no surprise that Cloudbet offers a great betting experience for anyone looking for a reliable Shiba Inu platform:
How to Get Started With Shiba Inu Sports Betting?
Getting started with Shiba Inu betting is nothing too overwhelming. All you have to do is get a digital wallet, buy some SHIB, and sign up with a bookie.
Here is a breakdown of the steps you need to follow:
Get yourself a crypto wallet. There are quite a few available, so make sure you choose a reputable one that supports gambling. For example, Exodus and Ledger are good choices.
Buy SHIB and transfer it to your wallet. To buy SHIB, you need to find a crypto exchange site, exchange some cash for SHIB, and transfer the coins to your wallet.
Sign up with a bookie. This is essential as it can make or break your Shiba Inu betting experience. Ensure the sportsbook is trustworthy, licensed, and has various betting markets and competitive odds.
Pro Tip: earlier, you already found our top sites for Shiba Inu gambling – sign up with several to get the best odds and offers.
Make a deposit. Once you complete the registration process, it's time to make your first deposit. Also, don't forget to take advantage of the welcome bonuses and promotions, as they can considerably boost your bankroll.
Start betting! And now, the fun part – find your favorite sports, teams, and players, and start wagering. However, remember to bet responsibly and know when to stop!
Easy, right? With these five steps, you can put your SHIB into good use and potentially win big. Good luck!
Shiba Inu (SHIB): All You Need to Know
If you haven't yet heard of Shiba Inu (SHIB), you're in for a treat.
This decentralized cryptocurrency came into the world in August 2020 with the whimsical goal of being the so-called Dogecoin killer.
While it remains to be seen whether it will fulfill this prophecy, Shiba Inu has made its mark in the crypto world.
Its namesake, the Shiba Inu dog, adorns the currency's logo and is a fan favorite among pet owners and internet users alike.
What Makes SHIB Special?
Shiba Inu is making waves in the world of cryptocurrency for several reasons.
Firstly, it is an Ethereum-based coin that uses a different mining algorithm from Dogecoins.
Secondly, when it was first minted in August 2020, an astounding one quadrillion SHIB tokens were created – the highest number of coins ever generated in the crypto world.
Casinos Blockchain
Shiba Inu has the highest number of coins ever generated – one quadrillion.
What's more impressive is that Shiba Inu aims to be a decentralized organization, meaning there is no central leadership. This has left many wondering if decentralized organizations can function without hierarchy.
Shiba Inu's end goal is to become a stable currency that can be used worldwide as both a store of value and a method of payment.
It will be interesting to see where this innovative crypto journey leads.
SHIB, NFTs, and Metaverse
The world of NFTs and the Metaverse has opened new avenues for art collectors and creators alike, and Shiba Inu is making its presence known.
The Shiba Inu community has welcomed dog-inspired artists worldwide to participate in the "artistic Shiba movement." The result is the creation of the Shiboshis, 10,000 Shiba Inu-generated Non-Fungible Tokens (NFTs) that are recorded on the Ethereum blockchain forever.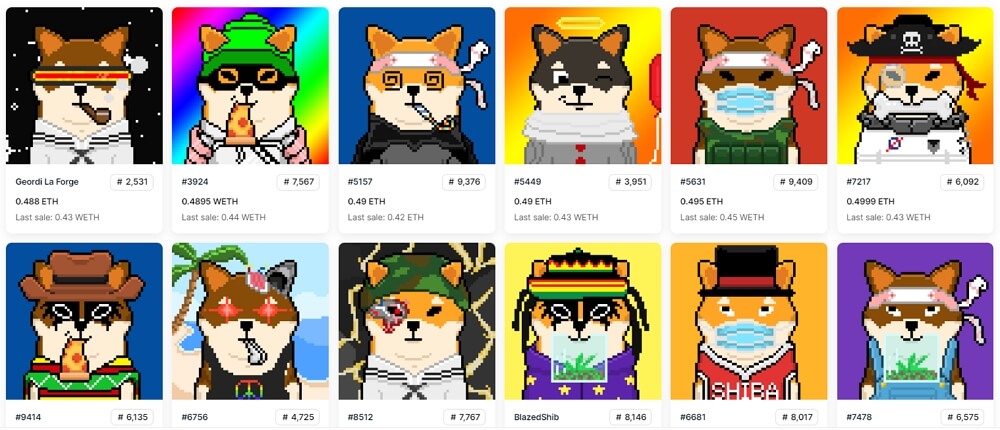 Each Shiboshi is unique and collectible – with individual traits such as laser eyes or a party hat.
And that's not all! If you're a fan of virtual reality, you're in luck!
The Shiba Inu development team has introduced Shib The Metaverse, a virtual reality project powered by NFTs.
This project aims to create an interactive and immersive environment for users to explore, collect in-game resources, and earn passive income.
An exciting feature of the Metaverse is that it will allow users to develop and launch their own projects, bringing a new level of creativity and innovation to the Shiba Inu community.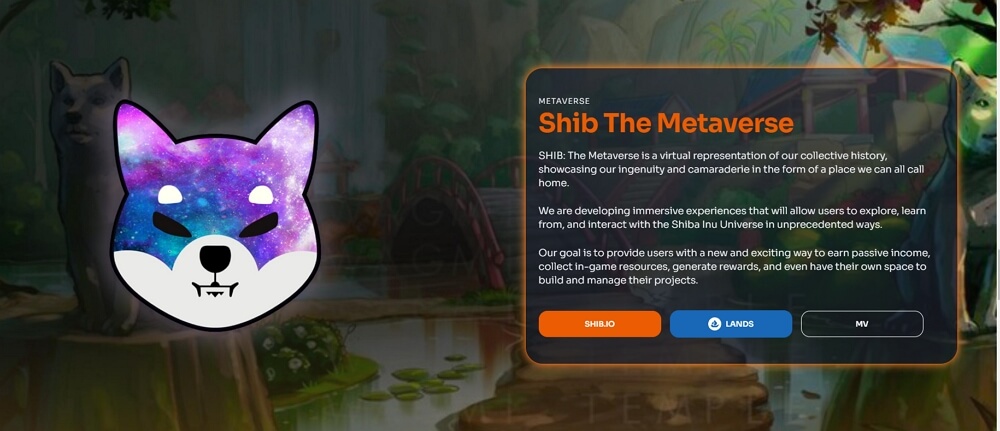 Besides the Metaverse and NFTs, SHIB developers have plenty of other innovative ideas. For example, they recently launched the beta version of Shibarium – a layer 2 blockchain that allows anyone to build DAPPS.
All in all, with this exciting emergence of Shiba Inu's part in the NFT Market and Metaverse, the potential for creative expression is limitless.
Shiba Inu has undoubtedly made its paw mark.
How is SHIB Different from DOGE?
While both have unique qualities, there are some key differences between them.
For one, Dogecoin boasts its own blockchain, which sets it apart from Shiba Inu, which operates on Ethereum.
Additionally, Dogecoin's market cap is almost twice that of Shiba Inu – a significant difference.
Regarding supply, Shiba Inu has a maximum supply of 1 quadrillion tokens, while Dogecoin does not have a specified maximum supply.
What Kind of Sports Can I Bet on With SHIB?
For those who want to bet on sports using SHIB, several options are available depending on your sports betting sites.
You can bet on traditional sports like soccer and tennis and newer options like eSports and virtual sports.
Generally, sports with clear odds and a strong history of previous outcomes, such as basketball and baseball, are good choices.
Moreover, betting on eSports with crypto has especially gained traction recently, and with more and more tournaments happening worldwide, it's easy to find opportunities to bet on your favorite games and players.
Some of the best eSports matches include:
CS:GO
Valorant
League of Legends
Dota 2
Ultimately, the sports selection you can bet on with SHIB will depend on the sportsbook. It's always good to go with a bookie that offers a variety of options.
For example, by opting for our top 3 betting sites, you'll have plenty of betting opportunities:
Pros and Cons of Shiba Inu Betting
The rise of SHIB has come with a lot of talk about its pros and cons. Let's have a look at Shiba Inu's advantages and downsides more closely:
✔️Affordable
With a low trading price compared to other digital currencies, like Bitcoin or Ethereum, SHIB provides a more profitable wagering option.
At its current market price of 0.0000099 USD, purchasing SHIB for just one dollar can give you a large amount of crypto.

This affordability makes it an accessible option for bettors on a tight budget.
✔️Innovative and Secure
Shiba Inu is proving innovative and secure as they continue to launch projects like Metaverse, Shibarium, and a new line of NFT collections.
Additionally, they plan to add a Shiba Inu stablecoin, known as SHI, to their roster.
Bettors, investors, and crypto enthusiasts alike can feel confident in the security of SHIB transactions since the Ethereum protocol ensures players a high level of security.
✔️Active Community
With high-profile backers like Elon Musk and Vitalik Buterin, SHIB has quickly gained a following in the crypto world.
But it's not just the big names that make SHIB's community unique; the recent token donation from Buterin has helped strengthen the community's ability to distribute and decentralize the movement.
In addition, Shiba Inu has gone above and beyond by creating a charitable campaign to help rescue real-life Shiba Inu dogs through the Shiba Inu Rescue Association.
And now, the potential disadvantages of Shiba Inu betting:
❌Not as Widely Accepted
While it's true that SHIB is considered one of the most popular meme coins, it may not be as widely accepted as other popular alternative coins.
In fact, some betting sites might not allow Shiba Inu as a form of payment, which could make it more challenging to find a suitable platform to place your bets.
P.S. All the bookies we have covered in this article are SHIB compatible, so take a look at our top 3 options:
Doesn't Have an Independent Network
SHIB operates on the Ethereum blockchain as an ERC-20 token. While this has advantages, specifically benefiting from Ethereum's dominant position in the market, it also presents some potential risks.
This is because when Ethereum experiences a drop in value, ERC-20 tokens are likely to follow suit.
Another major challenge that Shiba Inu faces is standing out from many other cryptocurrencies in the market. For example, currently, it lacks unique features that differentiate it from its competitors.
Ultimately, whether or not to engage in Shiba Inu betting requires carefully considering the coin's potential risks and rewards.
To Sum Up: Shiba Inu Betting
As we come to the end of our Shiba Inu betting adventure, it's clear that this pup has made quite an impression on the crypto betting world.
With its cute appearance and loyal following, the Shiba Inu has managed to navigate the challenging world of sports betting with relative ease.
Not to mention with its decentralized platform, you can bet with confidence knowing that your transactions are secure and transparent.
All in all, whether you're a seasoned sports bettor or just looking to try something new, Shiba Inu betting is definitely worth checking out.
Frequently Asked Questions
What are the best Shiba Inu (SHIB) betting sites?
Is Shiba Inu betting legal?
Yes, Shiba Inu betting can be considered legal. But, you should always check your country's gambling laws and regulations before engaging in any betting activity.