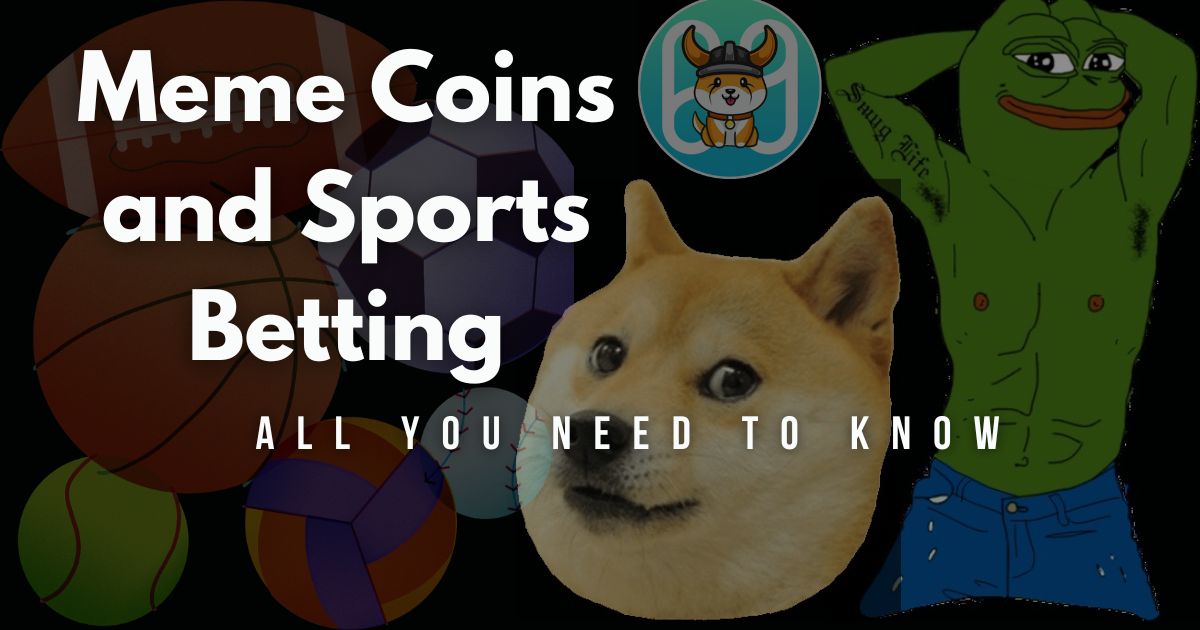 Meme Coins and Sports Betting: All You Need to Know
If you're reading this article, you're probably curious about meme coins and how they fit in the sports betting world.
Well, fear not because we're here to answer your questions.
What is meme coin?
To put simply, these are cryptocurrencies that were created specifically to have fun with. Think of them as the jokester cousin of Bitcoin.
Now, you might wonder, "What do meme coins have to do with sports betting?" We're glad you asked.
These tokens have become the latest craze amongst sports bettors, offering a new way to place bets and potentially make some serious cash.
So, get ready to learn all you need to know about the wild world of meme coins and sports betting.
Best Meme Coin Sports Betting Sites
Before we go into more detail about what exactly meme coins are and which ones are trending in 2023, here's a complete list of crypto sportsbooks where you can utilize different tokens for betting:
All these bookies have their own set of features, bonuses, and betting options – so there's something for everyone.
Now, let's move on to meme coins.
What is Meme Coin?
Meme coins are the intersection of Internet culture and cryptocurrency – meaning these digital currencies are like the class clown of the crypto world, inspired by Internet memes, jokes, and satires.
Casinos Blockchain
Meme coins are cryptos inspired by Internet memes, jokes, and satires.
They are often designed without any specific use case and instead draw people in with their virality and potential for market gains.
But here's the thing. Meme coin popularity is often short-lived, as they usually enjoy a brief period of fame during the market gains and lose value when the interest is lost.
Key Features:
Highly volatile – the price often relies on hype, Internet trends, and speculations.
No use case – they're usually designed without any specific utility.
Purpose – mainly created as a joke for entertainment purposes.
Accessible – meme coins are usually more affordable than established cryptos like BTC and ETH.
Possible high returns – when the meme coins' popularity rises, their value can significantly skyrocket, bringing a possibility for profit gains.
What Are the Best Meme Coins (And Where to Use Them for Sports Betting)?
In the vast and ever-growing world of cryptocurrency, there has been a recent surge in the popularity of meme coins.
With a diverse selection of over 340 digital tokens currently available, deciding which ones are worth investing your time in can be overwhelming.
Taking that into account, we hand-picked the six most popular meme coins that are worth keeping an eye on.
Let's go!
Dogecoin (DOGE)
Founded in 2013, it quickly became the first and most popular meme coin, with its iconic Shiba Inu logo taking over the Internet.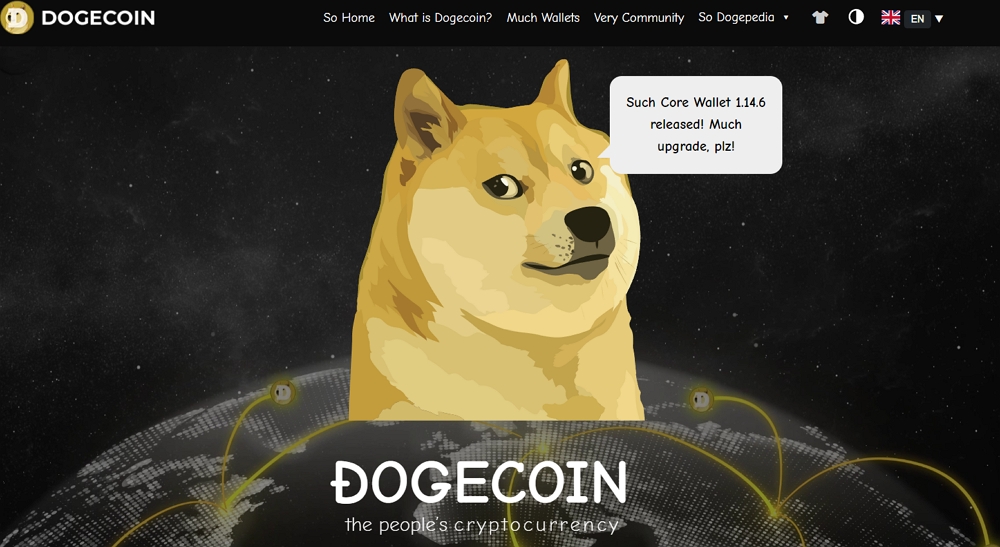 But it wasn't until Elon Musk's tweets about Dogecoin that this crypto started to skyrocket.
Love him or hate him, you can't deny that Musk has a passion for the underdog (or the underdoge, in this case).
Especially his tweets about Dogecoin have been known to send its value to the sky, making it clear that the success of this currency is closely intertwined with his passion for it.
Key takeaways:
The current market price is $0.060.
Works on Proof-of-Work protocol.
Infinitely mineable.
Where to bet with DOGE?
Since Dogecoin can be considered the most widely used meme coin for gambling and sports betting – many platforms accept DOGE as payment – so you definitely won't have a shortage of options.
Our recommendation? Try out our top 3 bookies:
Also, don't forget to check out our DOGE sports betting guide for more insights. And for eSports fans, we have an extensive Dogecoin eSports betting article.
Shiba Inu (SHIB)
Shiba Inu token burst onto the crypto scene in August 2020, boldly proclaiming itself the Dogecoin killer.
With heavyweight supporters like Elon Musk (surprise, surprise) and Vitalik Buterin, it's no wonder that SHIB has amassed a dedicated following.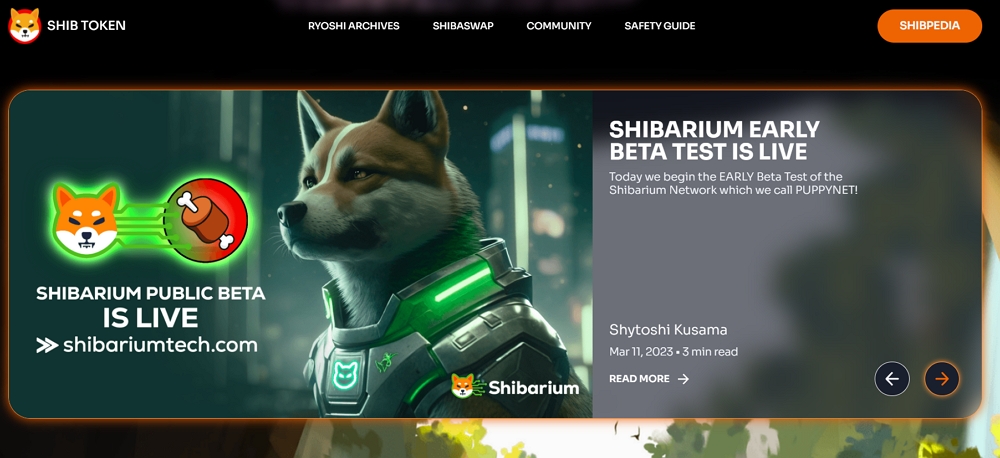 But this token isn't just all bark and no bite.
Shiba Inu is proving to be a force to be reckoned with, launching innovative projects like Metaverse and Shibarium and a new line of NFT collections.
And if that wasn't enough, they plan to add a Shiba Inu stablecoin (SHI) to their roster.
Key takeaways:
The current market price is $0.0000088.
Operates on the Ethereum blockchain.
It has the highest number of coins ever generated – one quadrillion.
Where to bet with SHIB?
Although SHIB is not as popular as its main rival, DOGE, many sportsbooks still accept this cute Shiba Inu as payment.
For example, besides our top bookies BC.Game, Stake, and Cloudbet, you can bet with SHIB at the following platforms:
PEPECoin (PEPE)
PEPE, the most "memeable" of all meme coins, has caught the attention of crypto enthusiasts worldwide.
Built on the Ethereum blockchain as an ERC token, it has managed to enter the top 100 cryptocurrencies by market cap.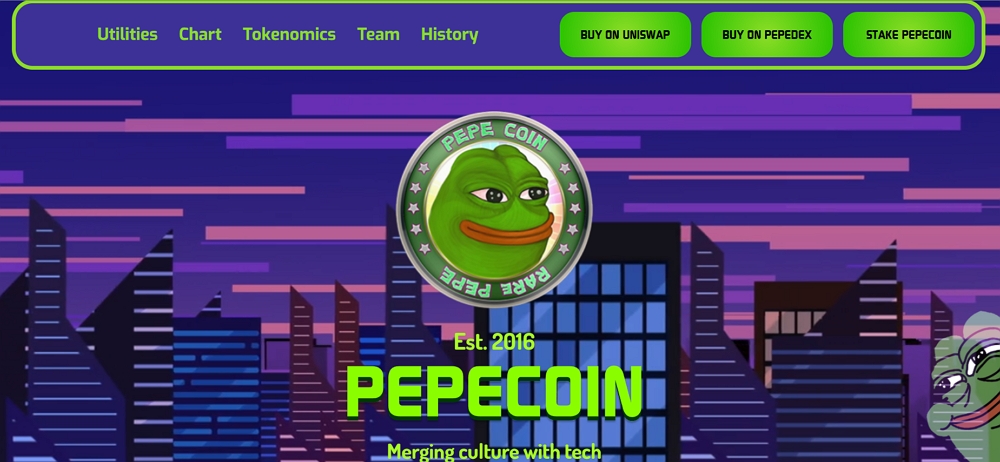 It was mined in 2016 with an idea to capitalize on the success of coins such as DOGE and SHIB – and successfully!
The rise of PEPECoin in 2023 may seem mysterious, but there's actually a key piece of the puzzle that drove its growth – listing on major exchanges like Binance, Uniswap, and KuCoin.
By making PEPE available on these platforms, the coin's creators opened up a floodgate of investor interest and activity, driving its value up like crazy.
Key takeaways:
The current market price is $0.0000008443.
Built on the Ethereum blockchain.
PEPE is deflationary.
Where to bet with PEPE?
Since PEPE is a fresh addition to the meme coin culture, it's also not as widely accepted as the previous two on this list.
However, according to our research, you can bet with PEPE at BC.Game:
DigiToads (TOAD)
Let's hop to another trending meme coin, shall we?
DigiToads, a frog-centered meme coin, is causing a stir in the crypto world with its unique features.
Its deflationary nature means that the supply of tokens decreases over time, adding value to those who hold onto them.
But it's not just about the financial gains – DigiToads has a community-oriented focus, meaning you can play a crucial role in its growth and development.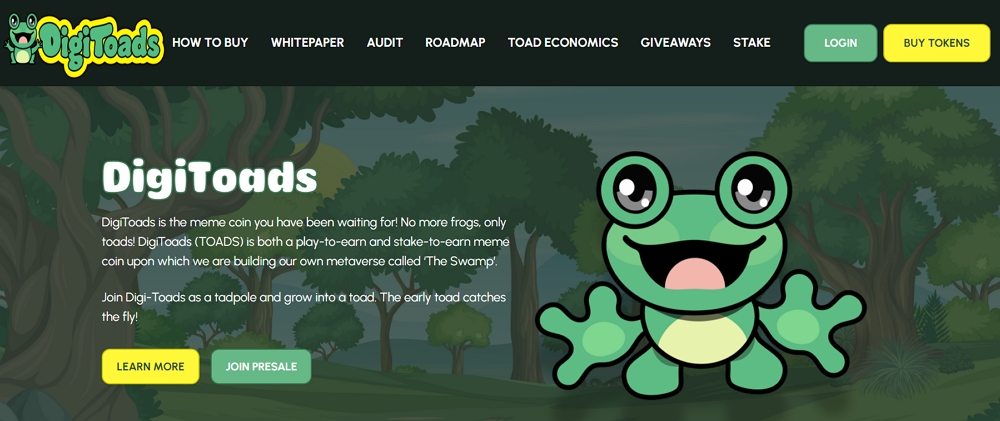 And speaking of play, did we mention that DigiToads is also revolutionizing the gaming industry with its play-to-earn Web3 game?
Yep! You can immerse yourself in the world of DigiToads, collecting, training, and battling them for fun and profit.
Key takeaways:
It will be launched on the Ethereum chain (ERC-20).
When you stake your DigiToads, you are entitled to a portion of the treasury tax.
Trusted and audited by Coinsult – a leading blockchain auditing firm that analyses and monitors blockchain protocols and DeFi projects.
Big Eyes Coin (BIG)
Now let's move on from dogs and frogs and focus on cute cats – enter Big Eyes Coin.
Big Eyes Coin is a community-owned DeFi phenomenon making waves in the crypto world.
Before launching on exchanges like BIG Swap, OKX, and Uniswap, PEPE has already raised $27.5 Million in presale, causing a lot of buzz in the crypto community.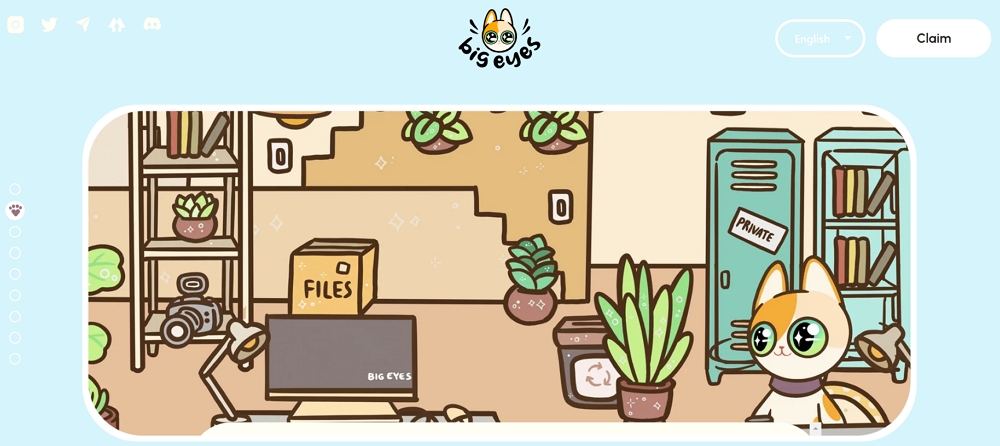 They're also dedicated to positively impacting the world, with 5% of the total supply being held in a charity wallet to be donated to ocean-saving charities (because cats want to have the best fish, obviously).
And that's not even the best part!
This coin has some big plans for the future, including establishing the NFT Sushi Crew platform and even its own crypto "Big Eyes" casino.
Key takeaways:
Based on the Ethereum blockchain.
The crypto casino will be launched on the 29th of August.
Contract code fully audited by Solidity Finance and shown to be 100% secure.
With all these exciting developments, you should be keeping your eyes peeled for BIG.
Floki Inu (FLOKI)
Looking for a coin that combines the power of Elon Musk (yep, him again), vikings, and doge all in one? Look no further than the FLOKI coin!
This innovative crypto is powered by both ETH and BSC, giving it some serious street cred in the crypto world.
What's more, FLOKI is not your average token – it features a 3D NFT Metaverse, DeFi utilities, a crypto education platform, a merchandise store, and more!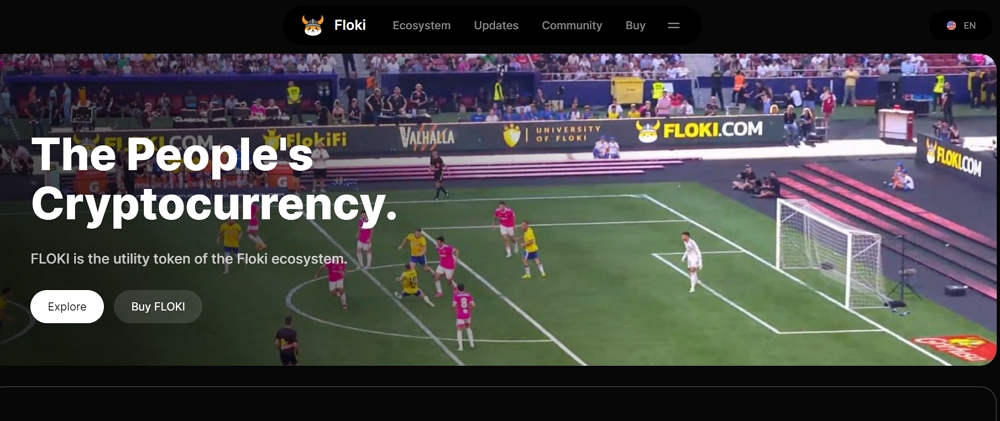 With its revolutionary approach to the crypto market, FLOKI has already gained a massive following of over 475,000 Floki Vikings worldwide.
But that's not all – FLOKI also has a heart of gold. The team has pledged to build schools in every underdeveloped nation globally, starting with Guatemala, Ghana, Laos, and Nigeria.
Key takeaways:
The current market price is $0.00002101.
It operates on Ethereum and Binance Smart Chain networks.
So, if you're looking to invest in a crypto that's not just about profits but about making the world a better place, FLOKI is worth checking out!
What Kind of Sports Can I Bet On With Meme Coins?
Well, the answer depends on what options the bookie is offering.
Nowadays, most bookmakers have a wide range of sports, including classics like betting on basketball, soccer, hockey, and motorsports like Formula 1.
Then there's also virtual sports betting, where you can place wagers on eBaseball, virtual horse racing, and many more.
Casinos Blockchain
There is no shortage of sports options you can bet on using meme coins.
And if you're a gamer and a betting enthusiast, eSports crypto betting is always an option. Different FPS and RTS games and NBA2K betting offer plenty of opportunities to put down some meme coins and see if you can come out on top.
How to Get Started With Meme Coin Sports Betting?
Getting started with meme coin betting is easy – all you need to do is set up a crypto wallet, buy some digital tokens, and find a reputable betting site.
Take a look at this step-by-step guide:
Set up a wallet. This is where you'll store your coins. Before choosing a wallet, ensure it's reputable and supports your preferred meme coin. Most crypto wallets support Dogecoin, but it might not be the case for lesser-known coins.
Exchange cash for coins. Next up, you need to buy some meme coins. You can do it in different crypto exchanges. Once you have the coins, transfer them to your wallet.
Sign up with a sportsbook that offers meme coins as payment options.
Make a deposit and start betting!
And that's it! Easy, right?
Conclusion – The Future of Meme Coin Sports Betting
While some may scoff at the idea of basing financial decisions on Internet jokes, the rising trend suggests otherwise.
In just two years, the number of meme coins in circulation has more than doubled, reaching a whopping 324.
What we can tell from this data is that people are seeking alternative coins to traditional cryptocurrencies like BTC, and the allure of meme coins is undeniable.
Casinos Blockchain
Increasing number of sports betting sites include meme coins to their payment selection.
And the same goes for sports betting.
As the popularity of meme coins continues to skyrocket, it's no surprise that more and more crypto bookmakers are starting to accept them as valid forms of payment.
It looks like the future of sports betting just got a little bit memier.
Frequently Asked Questions
What are the best meme coin sports betting sites?
Meme coin is a crypto inspired by Internet memes, jokes, and satires. Some of the most popular meme coins include DOGE and SHIB.
How many meme coins are there?
There are currently over 300 meme coins available on the market. This number has more than doubled since 2021.
What are the best meme coins in 2023?
The most popular and widely accepted meme coin is DOGE. Other coins that are trending in 2023 include PEPE, DigiToads, FLOKI, and Big Eyes Coin.