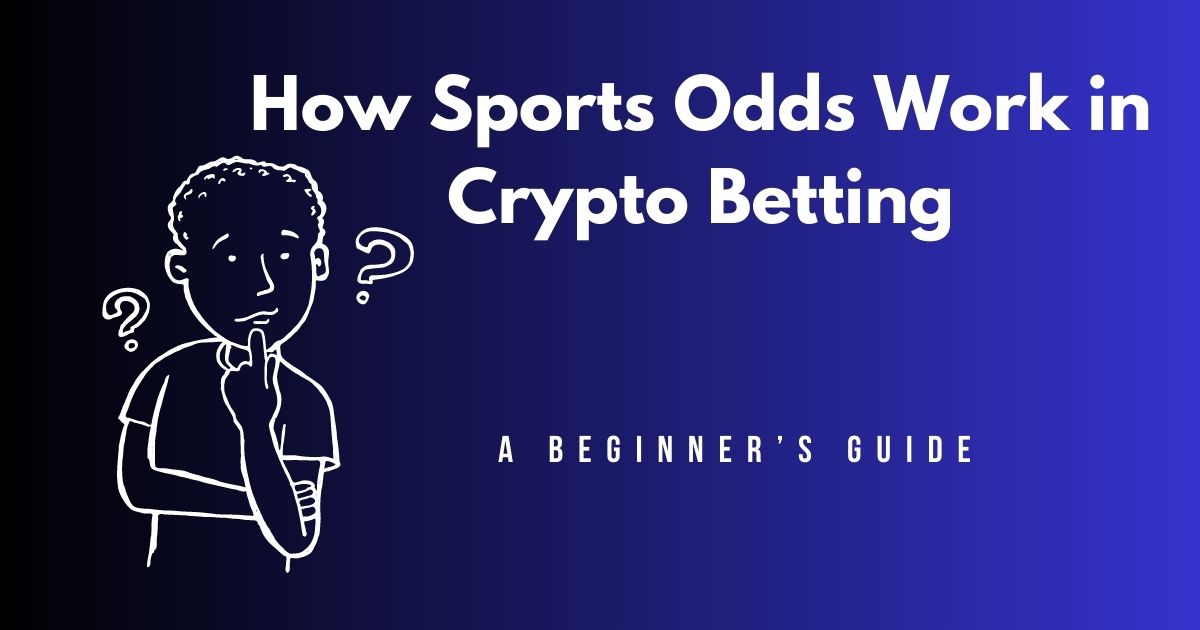 How Sports Odds Work in Crypto Betting: A Beginner's Guide
If you're a sports fan and are curious to learn how sports odds work in crypto betting, come along – this is the guide for you!
We'll teach you what the three main types of betting odds are and how to calculate them. Plus, you'll learn implied probability and how to use it to your advantage.
So let's dive right in and see how the sports betting lines work.
Most Common Sports Betting Lines: Explained
You will mostly encounter three types of odds in betting:
Fractional
Decimal
American
Each of these odds works slightly differently. But with a bit of practice, they can all be easily understood by anyone looking to place a successful bet using cryptocurrencies. Plus, we're here to help!
So without further ado, let's start!
Money Line (American) Odds
As the name suggests, American Odds ( also known as money line odds) are primarily used in sportsbooks focused on US bettors.
The way American odds work is that a line with a plus (+) sign reflects the total amount of money you'll receive if you place a wager on that team and they win.
Conversely, if there's a minus (-) sign next to the line, it represents the amount of money you must risk to win back your initial wager.
Casinos Blockchain
A plus (+) sign indicates the team is the underdog; while a minus (-) sign shows the team is the favorite.
Let's look at an example of how to read American odds.
How to Read American Odds?
For instance, you want to bet on an NBA game between the Detroit Pistons and Indiana Pacers.
Cloudbet offers the following odds on the money line market:
| Detroit Pistons | Indiana Pacers |
| --- | --- |
| +129 | -176 |
If you bet on Detroit (the underdog) with a lower probability of winning, you need to risk 100 USD for the potential of winning 129 USD. If the underdog pulls off, you get your initial 100 USD plus the additional 129 USD, giving you a total payout of 229 USD.
On the other hand, if you predict the Indiana Pacers (the favorite) to win the game, you need to bet 176 USD to win 100 USD. So, if the favorite wins, your potential payout would be 276 USD – your initial stake of 176 USD + profit of 100 USD.
The same logic applies to crypto bets.
For example, you predict that the Detroit Pistons will win and wager 1 ETH. This means that your total payout could be 2.29 ETH – with 1.29 ETH profit and 1 ETH from your initial stake.
Check out Cloudbet sportsbook to learn more about what odds they have to offer:
Decimal (European) Odds
Decimal odds, also known as European odds, are used primarily in Europe and Australia but are also gaining a foothold in the US.
While decimal odds might look complicated at first glance, they're actually very straightforward – it's just a number showing how much you'll receive for each unit of the amount you stake.
Decimal odds payout formula
bet x odds = payout
For instance, if you place a bet at 2.50 decimal odds, you'll get 2.50 USD returned for every unit you bet.
So if you bet 1 USD, your return would be 2.50 USD; if you bet 5 USD, your return would be 12.50 USD.
Let's see a real-life example of how decimal odds work.
How to Read Decimal Odds?
Let's imagine you're looking to place a bet on an NBA game between Houston Rockets and Boston Celtics using a winner (including overtime) market.
BC.Game offers the following odds:
| Houston Rockets | Boston Celtics |
| --- | --- |
| 7.4 | 1.1 |
In this case, if you wager 100 USD on Houston Rockets, you may receive a payout of 740 USD, while 640 USD is pure profit.
Similarly, if you bet 100 USD on Boston Celtics, you might get 110 USD, with 10 USD of net profit earned.
The same logic applies to all cryptocurrencies, no matter the format.
So, for example, if you wager 0.0001 BTC on Houston, your potential win could be 0.00076 BTC, and 0.00011 BTC if you wager on Boston.
But did you guess which team is the favorite and which is the underdog?
A team with smaller odds is the favorite, while a team with bigger odds is considered the underdog. So, in our case, team Houston Rockets are the underdog, and Boston Celtics are the favorite.
Want to know more about what odds BC.Game has to offer? Check out their sportsbook:
Fractional (British) Odds
Fractional, aka British odds, are, you guessed it, primarily used in the United Kingdom and Ireland.
The key to understanding fractional odds is to remember that the second number is the amount you'd have to bet to win the first amount. So, to put it in an example:
If you place a 5 USD wager at 4/1 fractional odds, you will stand to win 20 USD if your bet wins. How?
Here's the formula for calculating payouts with fractional odds:
Fractional odds payout formula
Total payout = (stake x (odds)) ÷ stake
Since fractional odds are popular in the United Kingdom, you can often see this format when betting on soccer (football) matches.
How to Read Fractional Odds?
To understand better how fractional odds work and how to read them, let's see an example of a Premier League match between Chelsea FC and Everton FC.
Stake gives the following pre-match odds on the 1×2 market:
| Chelsea FC | Draw | Everton FC |
| --- | --- | --- |
| 23/50 | 7/2 | 33/5 |
What would be the potential winnings for the underdog and the favorite?
Let's say you want to bet 100 USD on Chelsea FC (the favorite).
In this case, you could make a 46 USD profit. How? Because (23 x 100 USD) ÷ 50 = 46 USD. Plus, you'll return your initial stake of 100 USD, so the total potential winning would be 146 USD.
On another note, if you bet 100 USD on Everton FC (the underdog), you could win an even higher profit of 660 USD (33 x 100 USD) ÷ 5 = 660 USD.
And since you also get back your initial stake, the total payout would be 760 USD.
Lastly, if you think the match will end with a draw, your potential winnings would be 450 USD when using the same formula.
And as for previous examples, the logic for coins will remain the same with the difference that the payout will be in a different currency.
Stake is known for its various ongoing sports promotions, so don't forget to check out its sportsbook.
Implied Probability: Definition and How to Calculate
Implied probability essentially reflects the odds or lines set by bookmakers based on their expected probabilities for each outcome.
By understanding implied probability in sports betting, you can gain insights into how much experts think they know about the chance of something happening, which in turn can help you craft more informed wagers.
Basically, it tells you how confident bookies are that they have correctly gauged the outcome of an event.
How to Calculate Implied Probability in Sports Bets?
Calculating the implied probability of a sports bet can seem intimidating at first, but it's actually simpler than one might think.
All you need is the odds for the bet you're considering and basic math skills. Or an implied probability calculator if you're feeling lazy.
Implied probability is mostly used with American odds but can also be used with other formats.
Let's put this into an example.
You want to place a wager on an MLB baseball match between Miami Marlin and Philadelphia Phillies, and you want to know the implied probability for the favorite (Miami Marlin).
Stake gives the following odds for the money line betting market:

To calculate the probability for both teams, you should use the following formulas:
Implied probability for the favorite = Odds / (Odds +100)*100
Implied probability for the underdog = 100 / (Odds +100)*100
So, to put this formula into action, here is what the results would look like:
Toronto Maple -130: 130/ (130+100)*100 = 56.5%
Buffalo Sabres +195: 100 / (110+100)*100 = 47.6%
This tells us that Toronto Maple has a 56% chance of winning the match, which is considered a favorite.
You may have noticed that if you add the probabilities together, you get a result of 104.1 instead of 100. This extra 4% vig (also known as juice) is a house edge that the sportsbook will take as a commission.
It's common for vig (or the juice) to vary by the sportsbook. But needless to say, opting for a crypto bookie offering a lower vig is better.
Psst! Want to know where to get odds without the juice? Check out our crypto sports betting exchange article!
What is a Good Implied Probability?
Understanding implied probabilities can help you make smart wagers regarding your picks.
Generally, anything above the American odds of -200 is considered a heavy favorite.
You should think twice when placing wagers on money lines odds with -100 or less as the implied probability drops to 50%.
How Does Understanding Implied Probability Help with Crypto Sports Betting?
Understanding implied probability is essential for those looking to make successful crypto sports bets.
Here are some examples of how it can help you in your betting strategy:
Have a better visualization of the odds.
Learn how much vig is applied at different crypto sportsbooks.
Gain a better understanding of the competitiveness of the matchups.
Learn how to build betting strategies by calculating the possible returns.
Having a handle on implied probability gives you an upper hand when it comes to crafting your crypto sports betting strategy – do your research, focus on the numbers, and your bets are more likely to be winners!
Check out our top crypto sportsbooks and learn what odds they offer:
Commonly Found Odds Values: Explained
For many new and experienced sports betting fans, understanding the odds for certain bets can be daunting.
However, there are a few values that you'll quickly become familiar with when deciding where to put your money.
Let's look at the following:
What does +/- mean in betting odds: the +/- symbol is a shorthand way of saying either "underdog" or "favorite." A team with a (-) before their odds means they are favored to win, while a (+) suggests that they are likely to lose.
What does a +7 point spread mean: One team (the underdog) is favored by seven points over their opponent. These are often used in sports to balance the difference between two teams. In terms of outcomes, you'll win if the underdog wins with seven or more points.
What does 5/2 odds mean: 5/2 odds mean that if you wager 2 USD, you will earn an additional 5 USD in winnings if your bet is successful. It's a solid odd value with an implied probability of over 70%.
What does +200 mean in sports betting: it's a typical odd value for the underdog and means that if your bet is successful, your return will be two times what was staked. However, the implied probability of it happening is 33.33% – so it's pretty risky.
What does +2.00 odds mean in sports: +2.00 odds in sports betting indicate that a particular outcome's implied probability is 50%.
You'll probably stumble upon many other odds with different betting markets, but what's important to remember is that the logic behind different odds values and formats will remain the same.
Plus, with some familiarity and practice, this will come much easier.
Conclusion
With crypto sports betting, understanding how sports odds work is the key to making the most out of your bets.
But if you read our guide, you should know the basics of the three main types of betting odds and how to read them. And that's already a start!
So take some more time to learn how each type of odds works before committing money – that way, you ensure to make an educated bet.
Frequently Asked Questions
What are the most common types of betting odds?
The most common types of betting odds in sports are decimal (European), fractional (British), and American (money line) odds.
How to know the winning odds?
The easiest way to know the winning odds is to calculate the implied probability. For example, American odds starting at -200 or more have more than a 70% chance of winning. While odds with -100 or less have an implied probability of 50% or less.
Do odds work differently for crypto sports betting?
The odds work the same for crypto sports betting as for traditional betting. The only thing that changes is the currency while betting and during the payout.
What does the +/- signs mean in betting odds?
 The +/- symbol is a shorthand way of saying either the team is the underdog (+) or the favorite (-). Plus, the number following the +/- sign indicates what could be your potential return on a bet.