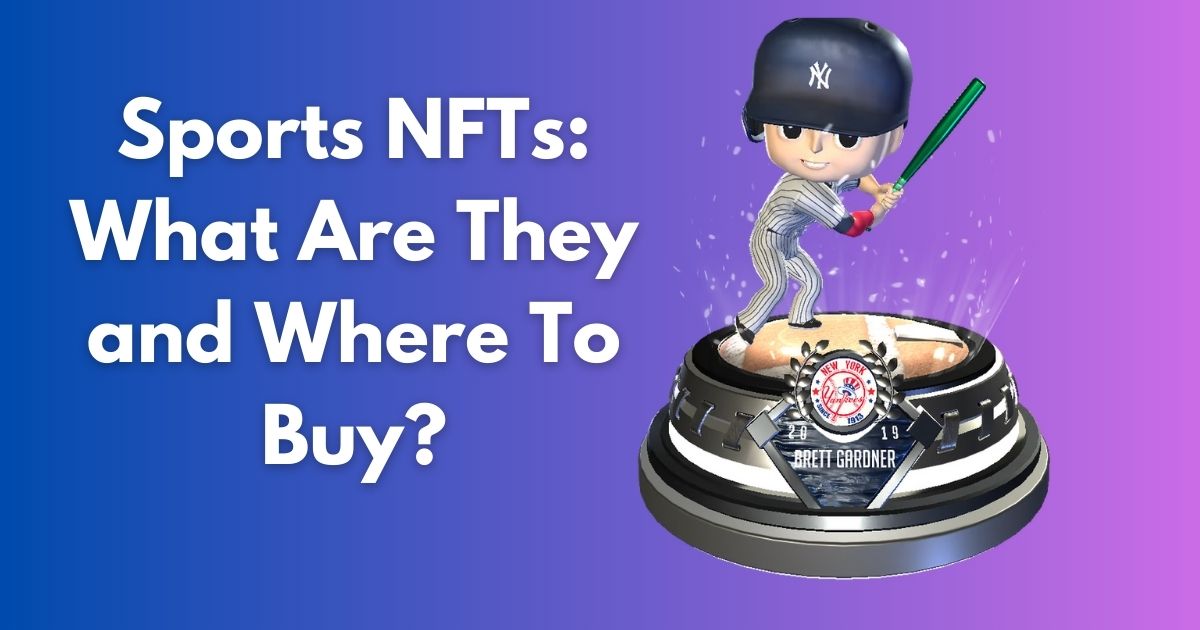 Sports NFTs: What Are They and Where To Buy? (2023 Guide)
If you love sports and cutting-edge technologies, then you'll be thrilled to hear about the latest fusion of these two industries: sports non-fungible tokens (NFTs).
Many of us have heard of the craze surrounding cryptocurrency, but now it's time to level up with collectibles that could rival those trading cards in your granddad's cupboard. But that's just the tip of the iceberg!
So buckle up and join us on a guided tour through the incredible world of sports NFTs – where you'll learn what they are, why they're useful, and the best Marketplaces where to buy sports NFTs.
Ready? Let's go!
What Are Sports NFTs?
Sports NFTs are the latest and greatest way to bring digital collectible cards and memorabilia into the modern age.
These non-fungible tokens provide a unique way for fans, players, and creators alike to connect with their favorite teams, leagues, and athletes like never before.
How do they work?
Sports NFTs are digital items that can be collected, similar to buying or trading cards. What makes them unique is that, unlike traditional collectibles, they are created on the blockchain, which gives NFTs a verifiable uniqueness.
What's more, they're generally encoded with the same software as many cryptos (Ethereum, for example).
Casinos Blockchain
Sports NFTs are not interchangeable – meaning you can't trade one NFT for another, as each piece has a unique value.
These digital assets can be bought and sold on online NFT marketplaces, allowing you to have once-in-a-lifetime experiences related to your favorite teams, athletes, and events.
There are several examples of sports NFTs:
Sport cards: hockey, baseball, and American football cards are especially popular.
Digital memorabilia: photos, posters, autographs, trophies, and other collectibles.
Videos and images: unique moments in sports history (for example, one of the most expensive NFT sold is LeBron James' photo – but we'll cover that later).
Sports betting: now you can also wager on sports with NFTs. For example, BC.Game is one of the few sportsbooks that offer collectibles as payments (we'll cover that in more detail later on, so stay tuned!)
Okay, so now that you have an idea of what NFTs are in sports, let's see why you should use them.
Why Use Sports NFTs?
If you're an avid sports fan, using Sports NFTs is the way to show your loyalty to your favorite players. Whether it's a LeBron James rookie card or a Connor McDavid game-worn jersey, you can own a piece of history and support your sports idols in the same fell swoop.
Also, with Sport NFTs, you don't have to worry about losing out on your investment either. You own a 100% digital asset that isn't subject to physical wear and tears as a traditional collectible might be.
Another reason to use sports NFTs is their growing popularity. Experts estimate their current market value at 1.4 billion USD and predict this number will skyrocket to 92 billion by 2032!
So, even if you are not particularly interested in collecting these items, investing in sports NFTs could prove beneficial in the long run due to their rising popularity, thus making it worth more than what you paid for when you bought it.
Casinos Blockchain
Sports NFT will cross half the physical collectibles value by 2032 – PR Newswire.
And let's not forget that sports NFTs can also generate potential revenues through royalties on secondary sales. That's right – anytime your NFT changes hands, the artist (or you, if you own the piece) could get a share of the profits.
Where to Buy Sports NFTs?
Shopping for sports NFTs has never been easier and more convenient than ever before. The best marketplaces to buy sports NFTs have all of the features you need for a smooth, safe, and enjoyable purchasing experience.
You'll find detailed descriptions of the available NFTs and helpful visuals to select the right item easily. These top-notch places offer excellent customer service and secure payment methods.
So without further ado, let's look at what are some of the best sports NFTs and where to get them.
Sorare
Who said card collecting was just a childhood hobby?
With Sorare, you can buy, trade, and sell digital soccer (football), NBA, and MLB player cards as you would as a kid with baseball or magic cards.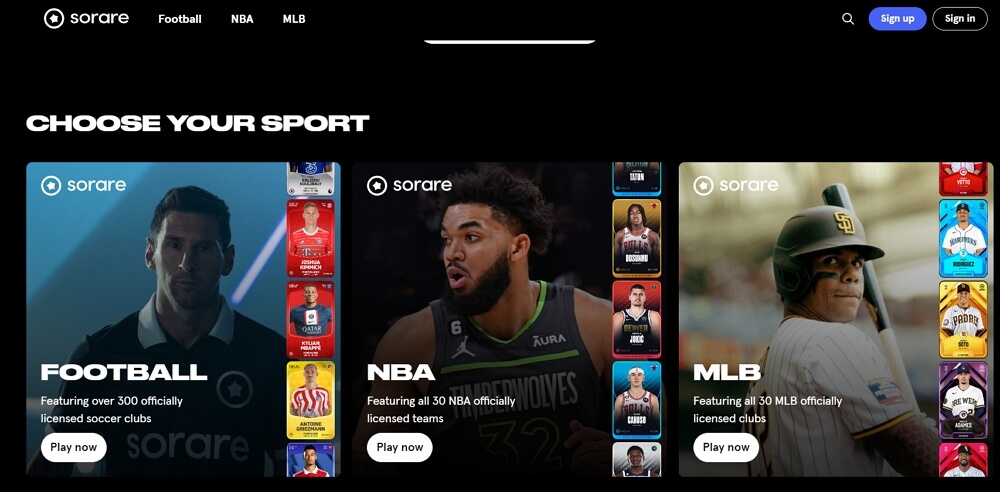 You can filter the option by team, league, price, and even scarcity.
The prices vary from cents to thousands of dollars, so there are plenty of opportunities for every taste. Plus, you have the option to purchase cards in ETH.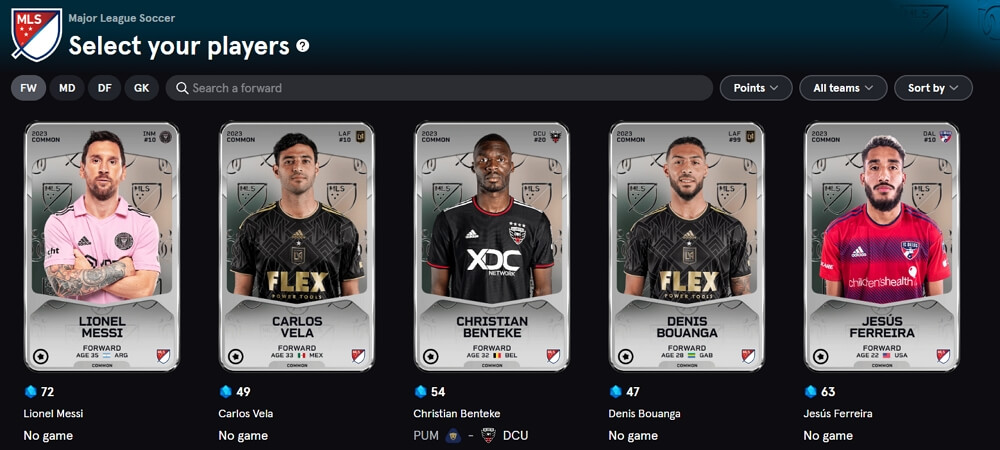 But what's neat about Sorare is that you can use your card collection to build teams and participate in free-to-play fantasy games against other global fans or even play against friends in private leagues.
And that's not all; you can also win prizes. For example, merch, match tickets, digital player cards (to add up your collection), ETH coins, and even a chance to meet some star athletes.
Oh, and did we mention that dozens of high-profile athletes like Messi, Mbappe, Pique, and Serena Williams back up Sorare? That is pretty impressive if you ask us!
So, if you're a soccer, basketball, or baseball fan and like collecting digital cards, plus enjoy fantasy games, Sorare is your go-to place.
OpenSea
OpenSea is an excellent platform to explore the world of cryptocurrency and NFTs.
They're the OG and largest NFT marketplace built on the Ethereum blockchain and offer a ton of fun activities.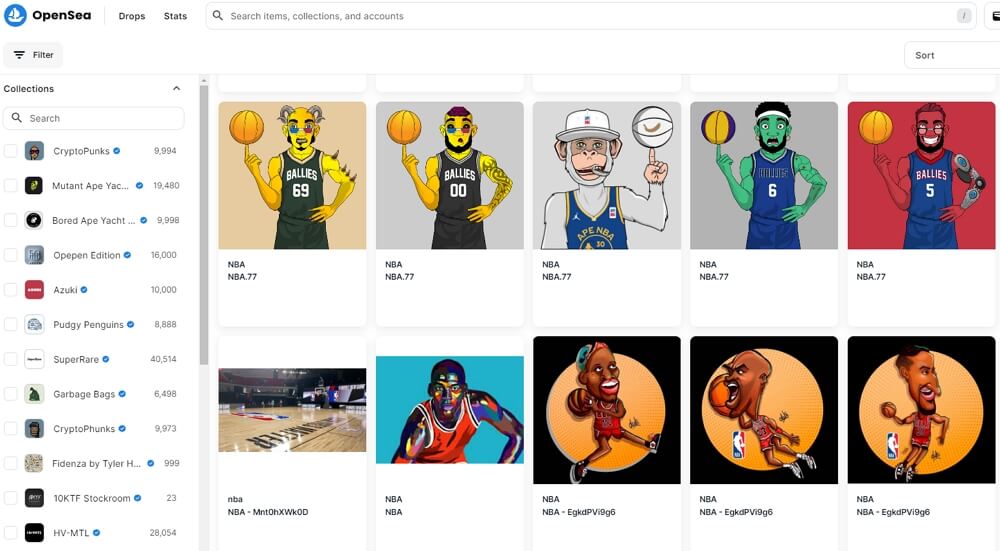 You can buy or sell NFTs in various virtual realms or games and even create your own NFT collections.
Even though OpenSea mainly offers art and photography collectibles, you can also take advantage of sports NFTs – from sports cards to tickets to events you're after.
Some unique sport NFTs include Sports Rollbots – a digital art that doubles as a personalized VIP membership for Rollbit.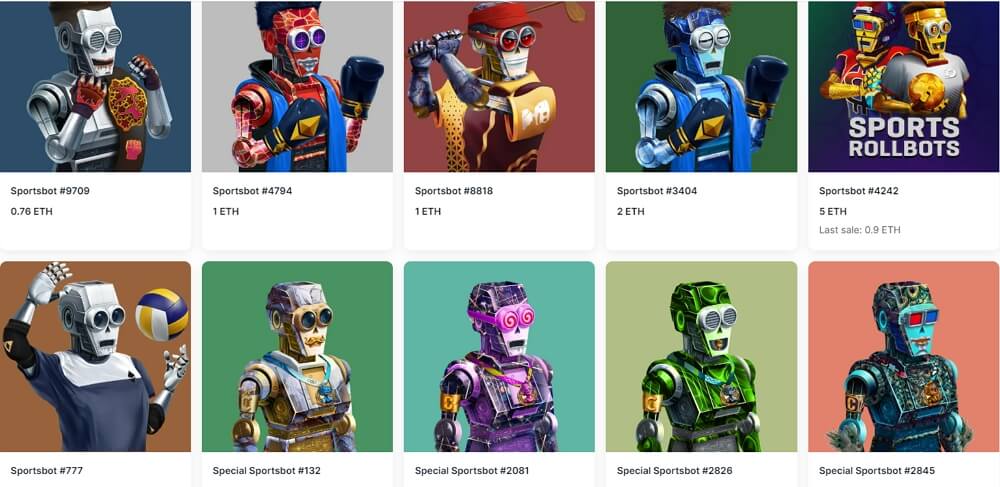 Another example of Opensea's sports collectibles is SportsIcon Lion Club. These act as membership cards to one of the greatest sports clubs in the world.

With this collectible, you can get tickets to sporting events, airdrops of sports NFTs, and Zoom chats with some of the greatest sportspeople.
NBA Top Shot
If you're looking for a niche basketball NFT marketplace, then NBA Top Shot is for you! Here you can have digital ownership over video highlights and NFT Drops of your favorite NBA and WNBA teams and players.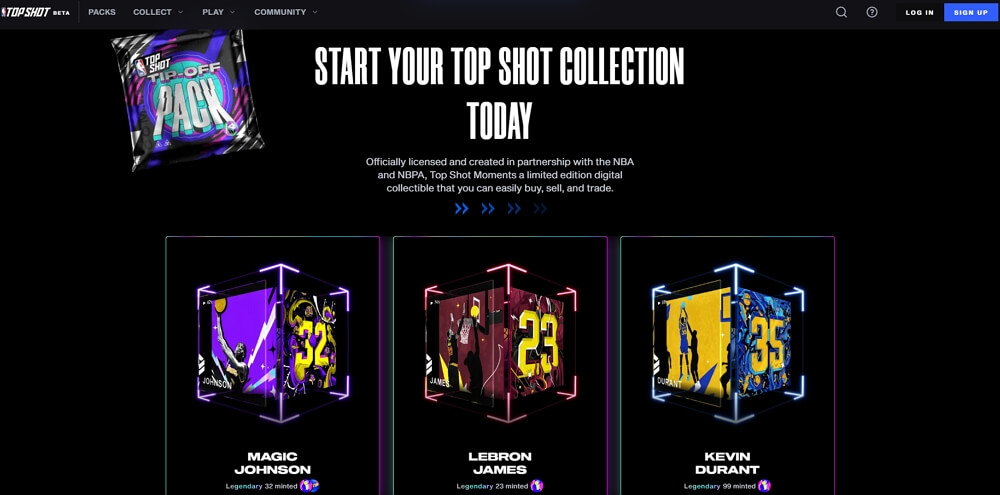 And you can buy and sell in mere seconds with protected transactions, verified collectors, and guaranteed authentication.
Plus – what's even cooler – you can use your digital highlight moments to compete in NBA and WNBA Top Shot challenges. It'll make playing hoops ten times more fun because your personal collection will function as virtual currency that rewards you with some more collectibles in return!
NBA Top Shot's marketplace is vast – you can buy moments per tier by players, sets, and badges.
For example, their legendary tier includes LeBron James' jump shot.
Nicknamed "King James," he scored 38 points on 13 for 20 shooting for the Los Angeles Lakers in his record-breaking performance against the Oklahoma City Thunder on February 7, 2023.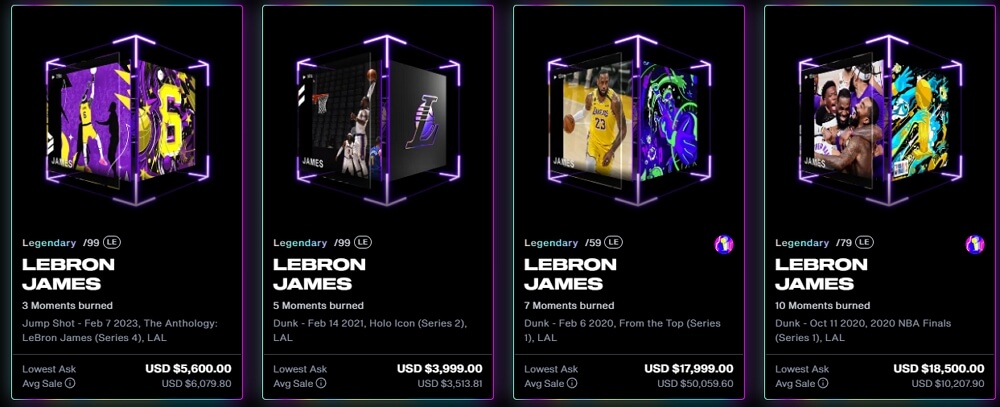 Plus, for really sweet deals, you can own and use the first official NBA VIP pass NFT and enjoy five years of NBA All-Star Weekends.
The NFT prices start as low as 1 USD and go up to hundreds of thousands of dollars. And you can choose several payment methods, including ETH and Flow.
Note: Check out our NBA crypto betting guide if you want to learn more about cryptocurrencies and basketball betting.
Sweet
Sweet is the go-to place if you're looking for exclusive collectibles from world-renowned brands like the New York Knicks. You can find everything from Knicks sneakers to player cards and tickets on this fantastic marketplace.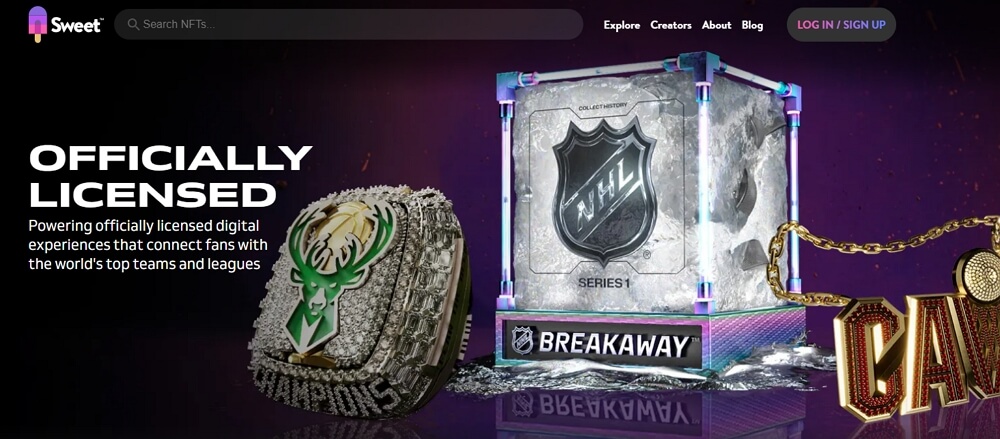 Plus, you can purchase access to several sports events, like a Gold Pass to an NBA 2022-23 Season. And this doesn't only mean that you can watch the game, but you can also access the courtyard warmups, arena tours, and team shop swags.
But that's not all – this platform is extra-sweet if you're a racing fan.
For example, you have a bunch of options to buy collectibles from McLaren Racing, from comic books to McLaren British GP race suits.

And if you're a Red Bull Racing fan, you can purchase Checo's helmets that are released as NFTs.
P.S. Want to learn more about the crypto world and motorsport? Read our detailed Formula 1 Bitcoin betting guide!
NFL All Day
NFL All Day is the ultimate place for all football aficionados.
It was released in partnership with Dapper Labs at the end of the 2021 NFL season and opened a new realm of possibilities for fans to showcase their devotion and dedication to the sport.

Whether you're looking to collect the coolest grail moments from the most prominent sports stars, tackle challenges that test your football knowledge, or shop around for cool collectibles on their marketplace, NFL All Day has it all.
And talking about their marketplace, let's see what sports NFTs you can buy.
The priciest and arguably most valuable NFL Moment currently is Aaron Rodgers's gameplay, where he finished 17-of-23 through the air with two touchdowns, carried the ball seven times for 19 yards, and scored a victory on October 17, 2021.

The lowest ask for this Moment is a whopping 1 Million USD! But don't worry; there are plenty of other (wallet-friendly) mementos you can choose from.
For example, you can buy NFL packs consisting of moments and virtual versions of Super Bowl rings.
All in all, if you're an NFL fan and want to level up with NFTs, NFL All Day is your go-to.
P.S. If you're interested in American football, check out our NFL crypto betting guide.
What Are The Most Expensive NFTs (So Far)?
Some pieces have gone for some outrageous prices, making them the most expensive sports NFTs ever sold!
Let's have a look at the two priciest ones:
1. LeBron James' Statue – 21.6 Million USD
The LeBron James' photo of a tomahawk dunk at an NBA game back in February 2020 is one of the most highly-coveted purchases in sports NFT history.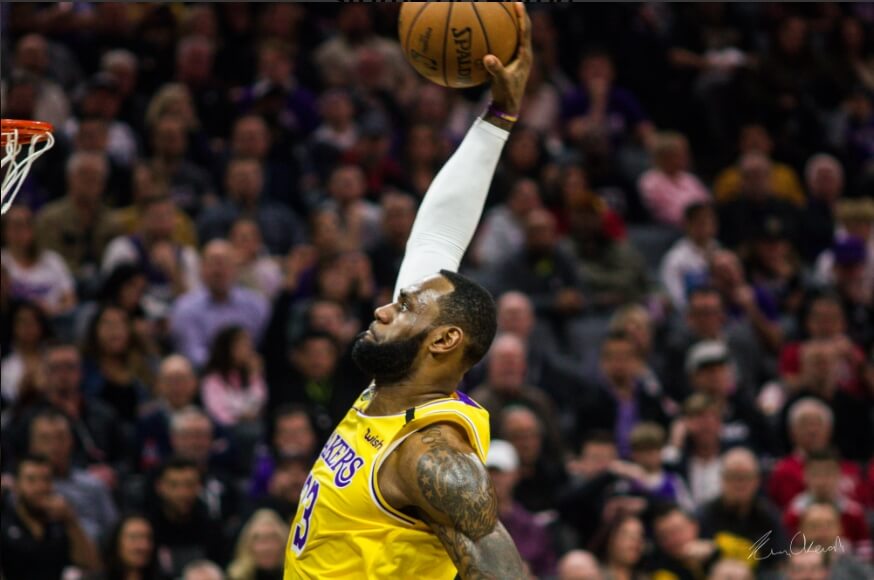 Snapped by photographer Kimani Okearah, this remarkable shot was sold for 21.6 million USD with its exclusive non-commercial rights on the only available copy and its RAW file.
2. MLB Champions Brett Gardner – 21.2 Million USD
The second most expensive NFT so far is MLB Champions Brett Gardner.
This NFT grants you exclusive rights to New York Yankees player Brett Gardner's stats in the virtual baseball world – MLB Champions (a blockchain-simulated baseball game).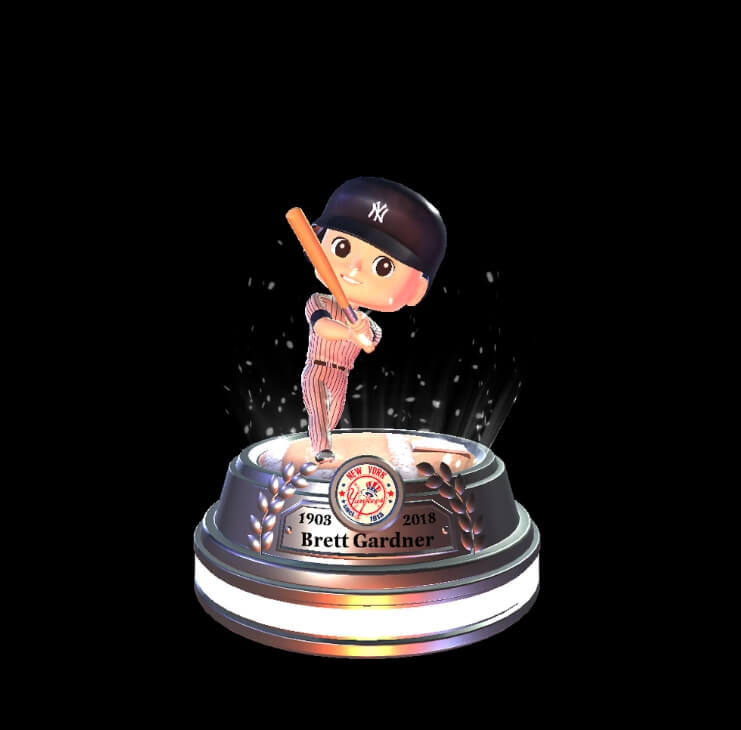 This means that, assumably, the better Gardner plays in the real world, the more valuable the NFT becomes.
Several other sports NFTs are also sold for millions, including Micheal Jordan sportPunks, Diego Maradona rare moments, and many more.
And who knows what the coming years bring; maybe someone will even beat LeBron's famous dunk.
Can I Use NFTs for Sports Betting?
Non-fungible tokens (NFTs) have recently been making waves in the Bitcoin sports betting world. Like other cryptos, NFTs are on blockchain technology that ensures your bets are secure and transparent.
How is NFT betting different from crypto betting?
Unlike your typical crypto betting, NFT bets are more conceptual than actual. Instead of winning more currency, you could walk away with unique digital items like artwork, collectible cards, and even virtual property deeds inscribed on the blockchain.
Where can you use NFTs for sports betting?
Currently, there aren't many bookies that offer NFTs for sports betting – but the few that do are BC.Game and Rollbit.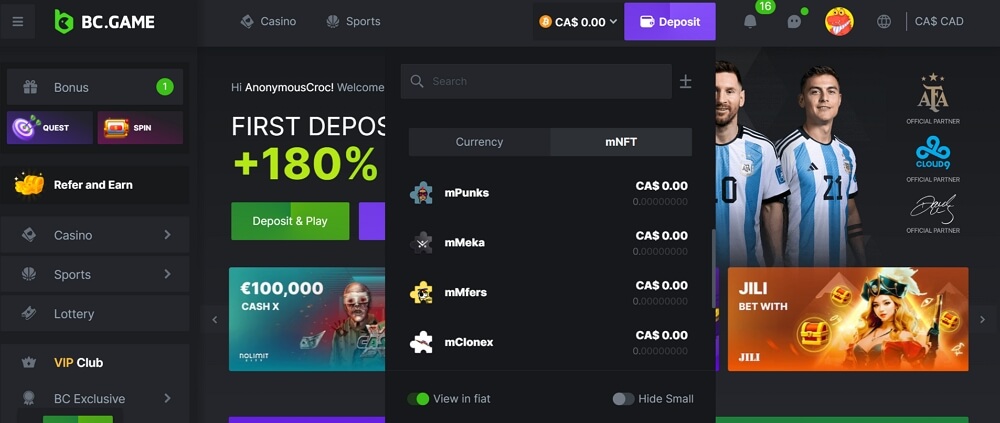 In 2022 BC.Game started offering access to the Degenverse ecosystem– a thriving community of crypto enthusiasts and NFT collectors who want the best gaming experience.
With a Degen Pass, you can get early access to decentralized gambling apps, BC.Game perks, and mystery airdrop holders.
Once you register an account with them, you have the option to deposit the following collectibles:
Degen Pass
BAYC
CryptoPunks
Meka
Mfers
Clonex
Doodles
Azuki
Not to mention they also have 40+ sports games where you can place your bets.
Want to know more? Check out their website:
Another great example of an NFT sportsbook is Rollbit.

What's really cool about them is that they offer sports Rollbots that act as VIP membership cards and come with many benefits, such as monthly free bets and combo boosts that act as parlay multipliers.
Sounds good? Check out Rollbit sportsbook for more information:
Conclusion
Sports NFTs have become increasingly popular and for a good reason!
This new trend allows you to show support for your favorite team with digital tokens that can be used to gain access to exclusive events or digital goods.
The possibilities of NFTs seem limitless, and as more teams adopt them, they may just become an essential part of any fan's collection.
Who knows? Maybe soon, you'll own an officially licensed piece of a popular sports franchise in the form of an NFT!
Frequently Asked Questions
Sports NFTs are digital items that can be collected and traded, similar to buying or trading cards. What makes them unique is that they're not interchangeable - meaning you can't trade one NFT for another, as each piece has a unique value.
Are sports NFTs worth it?
There are several reasons why sports NFTs can be beneficial. First of all, using Sports NFTs is a way to show loyalty to your favorite players. Secondly, investing in sports NFTs could prove beneficial in the long run due to their rising popularity. Plus, NFTs can also generate potential revenues through royalties on secondary sales.
Where to buy sports NFTs?
You can buy sports NFTs in different marketplaces, for example, the largest NFT is OpenSea. If you're into digital sports cards and fantasy games, then Sorare offers NBA, MLB, and soccer cards, and you can participate in fantasy matches for free. NBA Top Shot and NFL All Day are niche NFT marketplaces where you can buy, sell, or trade collectibles related to basketball or football.