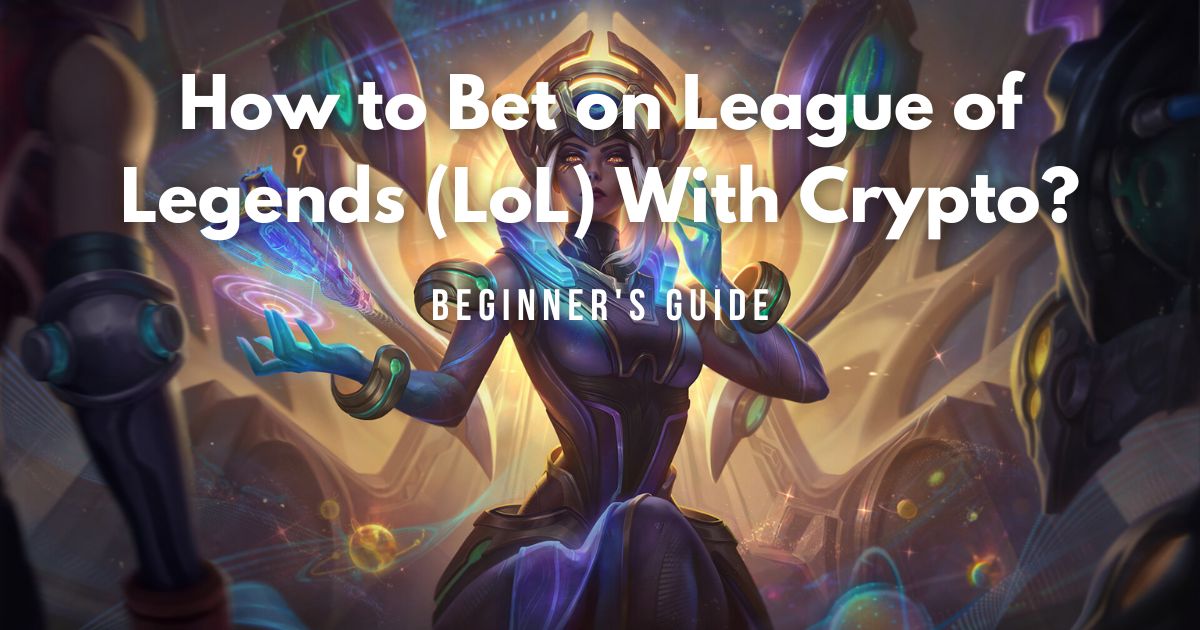 How to Bet on League of Legends (LoL) With Crypto (Beginner's Guide)
Among the biggest eSports around, League of Legends (LoL) has many cryptocurrency betting opportunities.
So, whether you're looking for more insights into LoL, what are the odds and betting markets, or something else entirely, our guide can help get you started!
We cover everything from which LoL crypto betting sites provide the best bang for your buck to various strategies to increase your chances of success.
So if dipping a toe into LoL crypto betting sounds like something up your alley, check out our guide and get ready for a wild ride!
Ready? Let's go.
Our Top 3 League of Legends Betting Sites
Short in time? Here's a full list of League of Legends crypto sportsbooks:
Now, let's have a look at the top three in more detail:
Stake – Great for LoL Live Crypto Betting
Stake is our top choice for LoL crypto betting.
With several big-name sponsors, such as Drake and Alfa Romeo F1 Team, they have proven their trustworthiness and commitment to delivering quality service.
What sets them apart, though, is their live betting platform for LoL.
As any bettor knows, live betting can be a bit of a challenge on its own. However, with Stake sportsbook's intuitive and modern design, it's easy to access live streaming and start wagering with just a few clicks.
Most notable features:
20+ cryptocurrencies: various cryptos to choose from, including altcoins.
Great sports promotions: they don't have a welcome bonus, but they offer 10+ ongoing sports promotions.
VIP program: every year, Stake gives out over 1 billion USD in bonuses to reward their players for loyalty and gameplay.
Bet Builder: allows you to select different bets within the same game.
Competitive odds: they offer minimal odds variations compared to rival sportsbooks.
Betting markets: most common LoL betting lines are represented.
Active community: you can interact with other members in the Stake forum.
Provably fair and licensed: holds a verified license from the Crypto Gambling Foundation and a gambling license from Curacao.
BC.Game
BC.Game is our second-best choice for those who love to bet on League of Legends (LoL).
Not only can you find a range of regional tournaments in the spring and summer splits, but they also offer many exciting upcoming events to put your coins on.
With more than 20+ betting markets available and competitive odds that greatly favor betting on an underdog, BC.Game makes sure that everyone gets to feel the thrill of potential winnings!
What's more, you can even make the most out of their welcome deposit bonus (up to 1 BCD). Not to mention they have several ongoing promotions, and their VIP club comes with many attractive awards.
Most notable features:
In-play betting: you can stream and place live bets on several LoL matches.
50+ available cryptos: including Bitcoin, Dogecoin, Litecoin, Ethereum, and even NFTs.
Secure: 2FA and SSL encryption.
Curacao license: you can trust them to be reputable and legit.
Anonymous: register with just an email address.
Provably fair: a verified operator of the Crypto Gambling Foundation.
Customer support: 24/7 live chat option.
In-house crypto exchange: swap your cash for coins directly on their website without hassle.
Competitive odds for LoL matches.
Cloudbet – Tons of LoL Betting Markets
Cloudbet sportsbook has been in the game since 2013, so you know they have plenty of experience and knowledge about the crypto betting industry. Plus, they have a license from Curacao and provide responsible gambling.
What's more, Cloudbet also offers a hefty welcome bonus of up to 5 BTC, but it does not apply to eSports or sports games. Nevertheless, if you want to try out their crypto casino, you should take advantage of the offer.
Most notable features:
Anonymous: you can register using only your email address.
10+ cryptocurrencies: you can bet on LoL with different cryptos.
Exclusive VIP program and Marketplace: you can customize your bonuses and get expensive prizes such as Rolex and Lambo.
Several sports categories: 30+ sports games and 10+ eSports games.
On-site crypto exchange: you can easily change cash for crypto directly on their site.
Various betting markets: some LoL matches have over 30 betting lines to choose from.
Secure: 2FA and SSL encryption.
Live betting: you can place bets on various LoL matches while live streaming the event directly at Cloudbet.
How to Bet On League of Legends: Step-By-Step Guide
Now that you've learned our top recommendations for LoL Bitcoin betting, it's time to try it out yourself.
To help you get a smoother start, we made a short step-by-step tutorial on how to get started with LoL crypto betting. Let's have a look:
First, we recommend setting up a crypto wallet. This is where you'll store your coins, so ensure the wallet is reputable and safe to use. For example, Blockstream is the best Bitcoin wallet, and if you're an Ethereum fan, then go with MetaMask.
Once you have your wallet up and ready, the next step is to exchange some cash for crypto. You can do this on several crypto exchange sites, like Binance and Coinbase.
Okay, so you completed steps 1 and 2. What's next? Now, you need to transfer the coins to your wallet. This is a simple process where you copy the crypto wallet address to the "Send" field of the exchange.
Done? Great! Now, find a crypto sportsbook that offers League of Legends and sign up with them.
And now, the exciting part! Deposit crypto to your sportsbook account, find your favorite LoL team and match, and start betting!
And that's all! Follow these five easy steps, and you'll be wagering in no time!
What is LoL Crypto Betting?
League of Legends (LoL) is the classic MOBA game from 2009, created and published by Riot Game. Since its publishing, it has become a massive hit with millions of gross revenue.
The player's tasks include occupying and defending their respective sides of the map while trying to overpower the opposing team.
It's an intense, fun, daunting, and ultimately thrilling gaming experience.
Why is League of Legends So Popular in eSports?
LoL consistently draws in huge crowds of viewers worldwide, with end-of-year tournaments offering millions of dollars in prize money.
In 2018, the prize pool for the World Championships peaked at 6.45 million USD and fell to just 2.23 million USD for the 2022 tournament – still an impressive sum of money!
This large cash prize is a major draw for gamers competing in League of Legends competitions, as it motivates them to persevere and push their skills to new levels of excellence.
Unsurprisingly, many eSports fans flock to watch these tournaments live or on platforms such as Twitch, which consistently offers high-quality streaming options for all those eager eSports watchers around the globe.
Why Should You Bet With Crypto on LoL?
Betting on LoL eSports matches has become a phenomenon that is growing more popular amongst fans.
Traditional sportsbooks and platforms handle wagers with fiat money such as US Dollars, Euros, and British Pounds. However, another option is to bet on LoL with cryptocurrencies like DOGE, ETH, LTC, and BTC
Why prefer crypto over fiat?
Cryptocurrency offers tremendous advantages over traditional currencies in regard to online betting:
Transactions are much faster and cheaper because there's no need for a middleman.
Betting is more secure as it's enhanced with security protocols.
You can also remain anonymous. Meaning that your personal details will be kept safe and away from complications like identity theft.
Crypto sportsbooks often offer bigger bonuses and promotions.
So, if you're an LoL fan with some cryptocurrency sitting on the side, now is the perfect time to check out the thriving eSports betting industry!
How to Choose the Best LoL Crypto Betting Site?
We have compiled a list of some essential factors you should keep in mind when selecting an LoL crypto sportsbook.
Let's have a closer look:
Bonuses and Promotions
If you're looking to make a wager on League of Legends, it pays to check out the bonuses and promotions offered by your bookie of choice.
Not only can these freebies provide an extra boost to your account balance, but they can also indicate that the betting site has confidence in their odds and is committed to offering great value and service.
Plus, you get the satisfaction of seeing your bankroll go from strength to strength, even when things don't always swing in your favor.
For example, BC.Game and Vave come with an attractive match deposit bonus:
Stake and Thunderpick, on the other hand, excel in their ongoing promotions:
And JustBit, for example, offers a welcome cashback bonus with no wagering requirements:
Odds
Searching out competitive odds is a must if you're seeking an LoL bookie.
That's because, with more competitive odds, you'll get a higher win percentage that can stretch your eSports budget further with each successful wager.
After checking some crypto bookies, we can say that Stake, BC.Game and Cloudbet offer pretty competitive odds for LoL matches:
Types of Bets
With a wide range of betting markets, you'll have options for taking your pick from all sorts of wagers.
Not only that but with multiple market choices come more opportunities to win big and make money out of nothing!
So, ensure the bookmaker has all the common betting markets and offers special LoL betting lines.
Here are some of the LoL betting markets you should be aware of:
Total kills – this kind of wager allows you to bet on the total number of kills achieved in a single match or series.
First Blood – the very first kill in the LoL match and perhaps the most exciting and thrilling moment in the game.
First Baron – you'll be betting on a team who you think will kill the first Baron – a mythical creature familiar to LoL.
First inhibitor – a type of bet where you predict which team will destroy the first inhibitor (a structure that prevents the enemy's Super Minions from spawning).
Besides the abovementioned bets, you can also bet on map winners, duration, kills, and many more.
Trustworthiness
Having a trustworthy crypto sportsbook is essential for any serious sports bettor.
Not only do you want to be sure that your winnings are paid out in full, but you also want to know you're getting the best prices and betting terms possible.
So what should you pay attention to?
Firstly, ensure the sportsbook has a valid online gambling license from a reputable authority – such as Curacao.
Casinos Blockchain
Make sure the sportsbook holds a valid gambling license.
Secondly, read reviews from other users to get an accurate feel of how good the site is. If the majority are positive, that should give you the peace of mind needed.
Lastly, most reputable crypto sportsbooks are under KYC and AML policy. Why do you need to know that?
This might affect your privacy – meaning even though most sportsbooks offer anonymous registration, you might still go through verification. So, make sure you're okay with that.
Customer Support
When choosing an LoL crypto sportsbook, it's essential to ensure they have excellent and professional customer support.
This is because if you face any issues, whether it's technical or simply needing clarification on how the sportsbook works – reliable and friendly customer support will be able to help you out or provide insight into your situation effectively.
Cryptocurrencies
Having multiple cryptocurrencies to bet with allows for flexibility when it comes to the total amount of money being wagered, as some cryptos are worth significantly more than others.
Similarly, having various cryptocurrencies available also allows you to experiment and decide what coins you prefer.
Additionally, it can help you take advantage of exchange rates between the currencies and potentially make more money from your bets.
BC.Game is our favorite crypto bookie when it comes to having various coins. Why? They offer over 80 different currencies, including NFTs and the all-time favorites Bitcoin and Ethereum.
LoL Bitcoin Betting Tips
Crypto betting on LoL can be an exciting way for even casual observers to engage with the games they love.
But if you're new to betting on eSports LoL competitions, understanding the rules and techniques necessary to come out ahead can leave you feeling overwhelmed.
Don't worry! With these helpful LoL betting tips, you can easily get started in the LoL crypto betting world and have a great time while doing it.
Let's go!
1. Take Advantage of Betting Bonuses
Taking advantage of sportsbook bonuses is one of the best tips for League of Legends betting.
By signing up with sportsbooks, you can take advantage of promotions that will help make your bet even better.
So, check around to ensure you don't miss any opportunities to boost your bankroll and give yourself a better chance of making more money from your bets.
2. Analyze Previous Tournaments and Team Performances
If you want to make informed bets when it comes to LoL tournaments, then taking the time to do some research is a must.
Following eSports news and keeping up with your favorite teams will keep you informed on the latest developments.
But taking it further and analyzing team performances and previous tournaments is a great way to maximize your chances of success.
Casinos Blockchain
Analyzing team performances and previous tournament stats and data can be a valuable betting strategy.
So what should you do?
Look at each team's form over recent months or even years. For example, which players have been consistently excelling, delivering top-level plays, or making more kills than usual?
Also, consider any head-to-head confrontations between two particular teams in the past – who tend to come out on top when they meet?
Finally, take note of tournament histories. For example, team T1 has won the most titles from LoL Worlds, but teams Gen.G, Fnatic, and Dplus KIA are also noteworthy contenders that you shouldn't overlook.
3. Learn the Maps
Learning the maps in League of Legends can be a powerful tool.
Knowing the structure of different maps is one key piece for success — the lanes, river, jungle, and other scattered pathways around the map can give players a great sense of direction and control.
In Summoner's Rift (the main LoL map), for example, mastering vision control with wards lets teams know where their opponents are at any given moment to gain an advantage over them. This creates opportunities to make strategic maneuvers based on their enemies' positions.
Additionally, knowing which areas of the map are most commonly defeated and won by certain champions can also be very useful in making decisions about which team to bet on.
4. Bet on Different LoL Markets
Betting on different markets in League of Legends can be a great way to make the most of your bets.
Instead of simply putting all your money on the overall match outcome, why not consider trying to find value by predicting map winners?
Not only is this a way to diversify your investments, but it can result in greater returns – and who doesn't want that?
Casinos Blockchain
Live betting comes with higher risks but if done correctly, it can be very rewarding.
You could also try your hand at live betting – this is when you place wagers while the action is unfolding, and you might see the odds shifting drastically compared to pre-match options.
If done right, it can really pay off – just be sure to keep an eye on how your predictions are going as soon as you make them!
BC.Game is great for in-play LoL crypto betting, so why not check them out?
5. Check What Other LoL Fans Are Saying
If you are considering trying your hand at LoL Bitcoin betting, one of the best tips is to check out what other LoL fans are talking about.
There are a few places where you can find great conversation and pointers.
Subreddits like Summoner School and LoLEsports have helpful discussions from more experienced players and bettors, who can provide insider knowledge along with betting tips.
Additionally, chatting up others in the game's active Discord channel is a great way to stay informed about the game overall and get some top-notch tips for your next bet.
6. Set a Budget
Having a budget to stick with allows you to manage resources effectively and focus on making smart choices for your bets.
Without it, you may find yourself betting too much and often without necessarily cashing out wins. This may eventually lead to taking bigger risks than necessary, and an overall high-risk betting strategy may cause financial hardship in the future.
In short – even small amounts per bet that fit within a budget can still be rewarding when done smartly.
Biggest League of Legends Crypto Betting Events You Should Know About
With so much money up for grabs, it's no wonder there are dozens of big LoL crypto betting opportunities – ranging from smaller tournaments with local teams to international championships worth millions.
To get you started, here's a quick look at some of the biggest LoL crypto betting events out there!
League of Legends World's Championship (LoL Worlds)
League of Legends World Championship (LoL Worlds) is the holy grail of eSports events. It's an annual tournament hosted by Riot Games and is eagerly anticipated worldwide.
Professional gamers from all over the globe strive to compete in this ultimate competition, as the prestige and money that comes with being crowned the champion can be life-changing. The tournament is also widely watched, making it one of the biggest eSports events on the planet.
Casinos Blockchain
LoL Worlds 2023 will take place in October 10th to November 19th.
This year we'll get to enjoy the hype from South Korea – home to some of pro-play's finest.
So be ready to take advantage of some early odds once the LoL World's Championship date is announced!
Mid-Season Invitational (MSI)
The League of Legends Mid-Season Invitational (MSI) is the second biggest tournament after the LoL Worlds, and it takes place in between Spring and Summer Splits.
For this event, the Spring Split champions of each LoL Region compete for the prestigious MSI trophy, which grants them an extra team slot for them at LoL Worlds.
Regional Splits
And then there are the Regional Splits, where the LEC in Europe, LCS in America, LPL in China, LCK in Korea, and LMS in Taiwan are all hotly contested tournaments for pro players.
Every Regional Split is a two-part tournament, starting with the Spring Split which champions receive a qualification to MSI, and Summer Split grants spots at LoL Worlds later on.
Betting markets are already open for the Splits, so check out our top crypto bookies and take advantage of the odds!
Conclusion
All in all, LoL crypto betting is an exciting way to engage with one of the world's most popular eSports. It adds an extra layer of both reward and risk to your LoL experience, offering the excitement of cryptocurrency along with a thrilling gaming twist.
Best of all, using cryptocurrency for betting provides an added sense of security when handling money online.
So, if you're looking for a new approach to eSports betting that combines strategy, skill, and luck – without sacrificing safety – then LoL crypto betting is definitely worth trying out.
Frequently Asked Questions
What are the best crypto LoL betting sites?
Is crypto betting on League of Legends legit and safe?
Yup! However, make sure you go with a reputable and licensed crypto bookie. Plus, always check country-specific gambling regulations.
What are the best cryptos to bet on LoL?
Bitcoin LoL betting is probably most popular, but you can wager on LoL with several other cryptos and altcoins.
What are the biggest League of Legends betting events?
Some of the most important League of Legends events are Regional Splits competitions, Mid-Season Invitational (MSI), and League of Legends World's Championship (LoL Worlds).